Download printable Mensuration Class 6 Worksheets in pdf format, Class 6 Maths Mensuration Worksheet has been prepared as per the latest syllabus and exam pattern issued by CBSE, NCERT and KVS. Also download free pdf Mensuration Class 6 Assignments and practice them daily to get better marks in tests and exams for Grade 6. Free chapter wise worksheets with answers have been designed by Standard 6 teachers as per latest examination pattern
Mensuration Worksheet for Class 6
Class 6 Mensuration students should refer to the following printable worksheet in Pdf in Grade 6. This test paper with questions and solutions for Standard 6 Mensuration will be very useful for tests and exams and help you to score better marks
Class 6 Mensuration Worksheet Pdf
Class 6 Maths Mensuration Worksheet. Doing worksheets are important to check your understanding of various concepts. Download printable worksheets for class 6 Maths and after you have solved the questions refer to the answers. All worksheets have been made for all important topics in the chapter as per all topics given in NCERT book. 
Q.1. Find the total distance covered by an athlete in taking 2 rounds of a rectangular park of length 150 m and breadth 80 m.
Q.2. A tailor wants to put lace around a square table cloth of side 20 cm. He bought 1 m lace from the market. Find the length of lace left with him after completing the task.
Q.3. The length of a rectangular park is 50 m and its area is 650 m2. Find its breadth.
Q.4. Find the number of square tiles required to cover the floor of a room whose length is 4 m and width 3 m, if each square tile is of side 0.2 m.
Q.5. Two equal sides of an isosceles triangle measure 10 cm each. Find the length of its third side if its perimeter is 32 cm.
Q.6. A piece of string is 60 cm long. What will be the length of each side if the string is used to form :
(a) a square
(b) an equilateral triangle
(c) a regular pentagon
Q.7. A farmer's rectangular graden is adjacent to his house, (as shown in the figure). The rectangular garden is 200 m long and 150 m wide. Find the cost of fencing three sides of this garden at the rate of Rs.12 per meter.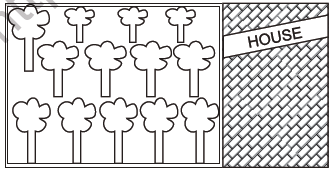 Click on the link below to download Class 6 Maths Mensuration Worksheet 
Click for more Mensuration Study Material
›