Download printable Mensuration Class 6 Worksheets in pdf format, CBSE Class 6 Maths Mensuration Worksheet Set A has been prepared as per the latest syllabus and exam pattern issued by CBSE, NCERT and KVS. Also download free pdf Mensuration Class 6 Assignments and practice them daily to get better marks in tests and exams for Grade 6. Free chapter wise worksheets with answers have been designed by Standard 6 teachers as per latest examination pattern
Mensuration Worksheet for Class 6
Class 6 Mensuration students should refer to the following printable worksheet in Pdf in Grade 6. This test paper with questions and solutions for Standard 6 Mensuration will be very useful for tests and exams and help you to score better marks
Class 6 Mensuration Worksheet Pdf
1. Calcualte the perimeter of the following figures.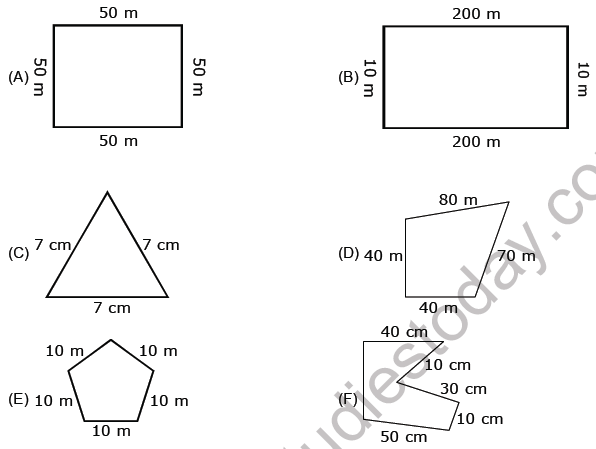 ANSWER KEY
1.
(a) 220m
(b) 420m
(c) 21cm
(d) 230cm
(e) 50cm
(f) 160cm
(g) 130cm
2. A square sheet of paper has a perimeter of 40 cm. What is the length of its side ?
Ans: 10cm
3. Anand's garden is 70 m long and 50 m wide and is in the from of a rectangle. If he uses three of barbed wire to fence the garden, what is the total length of the wire used ?
Ans: 720m
4. Find the area of each of the figure drawn on squared paper in given figure. Area of each square is 1 cm2.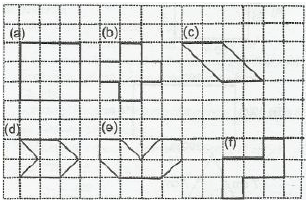 Ans:(a) 9cm2 (b) 5cm2  (c) 4cm2 (d) 4cm2  (e) 6cm2 (f) 5cm2 
5. The length of a rectangular field is 300 m and its breadth is 2/3 its length. If a road of width 10 m is built along the inner wall of the field, what is the area of the road ?
Ans: 9600m2
6. The area of a square picture is 441 sq. cm. What is the length of its side ?
Ans: 21cm
7. A marble tile measure 10 cm × 12 cm. How many tiles will be required to cover a wall is size 3 m × 4m ?
Ans: No. of tiles = 1000
Please click on below link to download CBSE Class 6 Maths Mensuration Worksheet Set A
Click for more Mensuration Study Material
›