Download CBSE Class 3 Computer Science More About Paint Brush Notes in PDF format. All Revision notes for Class 3 Computers have been designed as per the latest syllabus and updated chapters given in your textbook for Computers in Standard 3. Our teachers have designed these concept notes for the benefit of Grade 3 students. You should use these chapter wise notes for revision on daily basis. These study notes can also be used for learning each chapter and its important and difficult topics or revision just before your exams to help you get better scores in upcoming examinations, You can also use Printable notes for Class 3 Computers for faster revision of difficult topics and get higher rank. After reading these notes also refer to MCQ questions for Class 3 Computers given our website
More About Paint Brush Class 3 Computers Revision Notes
Class 3 Computers students should refer to the following concepts and notes for More About Paint Brush in standard 3. These exam notes for Grade 3 Computers will be very useful for upcoming class tests and examinations and help you to score good marks
More About Paint Brush Notes Class 3 Computers
Select-
This tool is used to select the particular part of the image with different shapes.
1. Rectangular selection
2. Free-form selection
Rectangular selection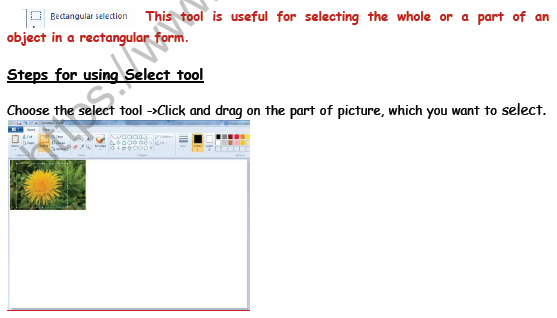 A dashed rectangle will appear around your selection, with the move cursor replacing the cross-hair one. You can press this cursor down anywhere inside your selection and drag to move it, or drag while holding the Ctrl key to make a copy of it.
This tool is used to select an object in irregular form. Free-Form Select is also understood in coloring parts of black and white images and vice versa.

Select the free form select tool by using mouse pointer->Point to the image to be selected-> click and drag on the area, which you want to select.

After clicking Freeform selection, drag your mouse around the area you want, as though you were drawing a line around it. When you release the mouse button, a selection rectangle will appear and it may seem that unwanted parts of the drawing have been included, but if you move the selection you'll see that this is not so.
View Menu-View Menu contains the following options
Zoom In, Zoom Out, 100%, Ruler, Full screen
Zoom In- This option is used to view image in enlarge mode. It represent the closer view of a image.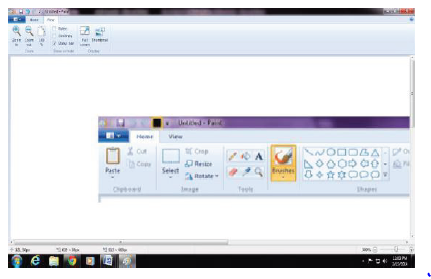 Zoom Out- used to distant view of an image.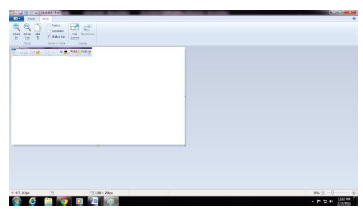 Full Screen-This option is used to see the Full View of the screen. You can also use Full screen option by pressing F11. Only image will be displayed without any tools.You can return back to original screen by clicking anywhere on the screen.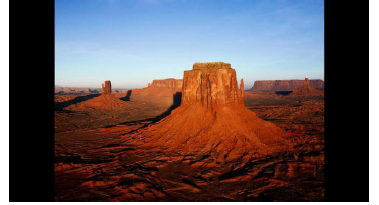 Let us do practice now
1. Write the function of Zoom option?
2. Make a list of options available in View menu?
3. What is difference between Free from Select and Rectangular Selection?
Lab Session
1. Make different shape in Ms-Paint view it in Zoom in and Zoom out.
2. Select images using free form selection – selecting flower.
Please click on below link to download Class-3-Computer-Science-More-About-Paint-Brush-Notes
Click for more Computers Study Material
›