CBSE Class 6 Spreadsheet Ms Excel. Learning the important concepts is very important for every student to get better marks in examinations. The concepts should be clear which will help in faster learning. The attached concepts will help the student to understand the chapter and score better marks in the examinations. 
CHAPTER-3
SPREADSHEET (MS EXCEL)
Microsoft Excel is a powerful spread sheet application that is perfect for maintaining long lists of data, budgets, sales figures and other data. In this chapter you will learn some important and interesting features of Excel like Table, Cell reference, inbuilt functions, sorting of data etc. Let's discuss these features one by one.
Creating a bar or column chart
To learn how to create a Column and Bar chart in Excel, let's use a simple example of marks secured by some students in Science and Maths that we want to show in a chart format. Note that a column chart is one that presents your data in vertical columns. A bar chart is very similar in terms of the options you have, but presents your data in horizontal bars. The steps below take you through creating a column chart but you can also follow them if you need to create a bar chart.
Preparing chart data
The table below shows the data we want to chart. It is important that your data be presented correctly in order to create a good looking chart.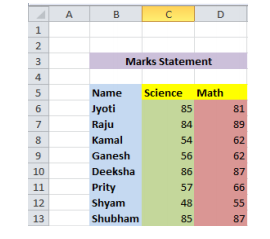 Please click the link below to download CBSE Class 6 Spreadsheet Ms Excel.
Click for more Computer Science Study Material
›