Read and download free pdf of CBSE Class 6 Mathematics Understanding Elementary Shapes Assignment Set A. Get printable school Assignments for Class 6 Understanding Elementary Shapes. Standard 6 students should practise questions and answers given here for Understanding Elementary Shapes in Grade 6 which will help them to strengthen their understanding of all important topics. Students should also download free pdf of Printable Worksheets for Class 6 Understanding Elementary Shapes prepared as per the latest books and syllabus issued by NCERT, CBSE, KVS and do problems daily to score better marks in tests and examinations
Understanding Elementary Shapes Assignment for Class 6
Class 6 Understanding Elementary Shapes students should refer to the following printable assignment in Pdf in standard 6. This test paper with questions and answers for Grade 6 Understanding Elementary Shapes will be very useful for exams and help you to score good marks
Class 6 Understanding Elementary Shapes Assignment Pdf
1. What is angle name of haf a revolution?

Its is acute or obtuse It is acute or obtuse
2. Match the following :-
Measure of sides / angles of triangle Type of triangle
i) 3 sides equal scalene
ii) 2 sides equal Isosceles right angled
iii) All sides different Obtuse angled
iv) all angles acute Right angled
v) 1 right angle Equilateral
vi) 1 Obtuse angle Acute angled
vii) 1 right angle and two sides equal Isoeceles
3. Draw these figure.
a) A regular pentagon
b) A parallelo gram
4. Match the figures with the name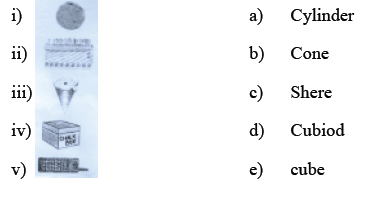 Please refer to attached file for CBSE Class 6 Mathematics Understanding Elementary Shapes Assignment Set A
Click for more Understanding Elementary Shapes Study Material
›