Read and download PDF of CBSE Class VI Mathematics Question Bank for ASSET Exam designed as per the latest curriculum and examination pattern for Class 6 issued by CBSE, NCERT and KVS. The latest Class 6 Mathematics Sample Papers have been provided with solutions so that the students can solve these practice papers and then compare their answers. This will help them to identify mistakes and improvement areas in Mathematics Standard 6 which they need to study more to get better marks in Grade 6 exams. After solving these guess papers also refer to solved Class 6 Mathematics Question Papers available on our website to build strong understanding of the subject
Sample Paper for Class 6 Mathematics Pdf
Students can refer to the below Class 6 Mathematics Sample Paper designed to help students understand the pattern of questions that will be asked in Grade 6 exams. Please download CBSE Class VI Mathematics Question Bank for ASSET Exam
Mathematics Class 6 Sample Paper
CBSE Class VI Mathematics Questions Database for ASSET Exams. Based on CBSE and NCERT guidelines. The students should practice these Questions to gain perfection which will help him to get more marks in examination. These papers are released prior to the ASSET examinations so that students can do practice. database of 1 marks, 2 marks, 3 marks and 5 marks questions.
Q.1. The three consecutive whole numbers that come just before 6510001 are
A. 6510098, 6510099, 6510100
B. 6510998, 6510999, 6511000
C. 6509998, 6509999, 6510000
D. 6519998, 6519999, 6510000
Correct Answer : C
Q.2.  After numbering the pages of his project report from 1 to the last page, Raman found that he had written 19 digits in all. How many pages did the report contain? 
A. 9
B. 14
C. 19
D. 38
Correct Answer : B
Q.3. On which of these dartboards will you have the best chance of landing your dart on the area marked ''BLUE''?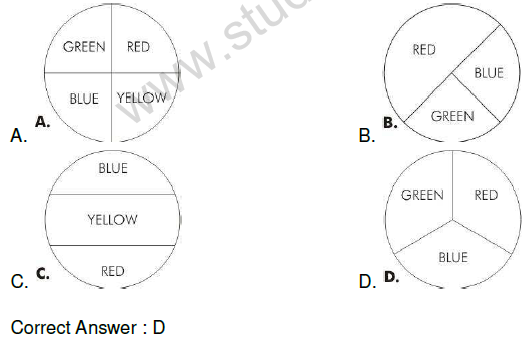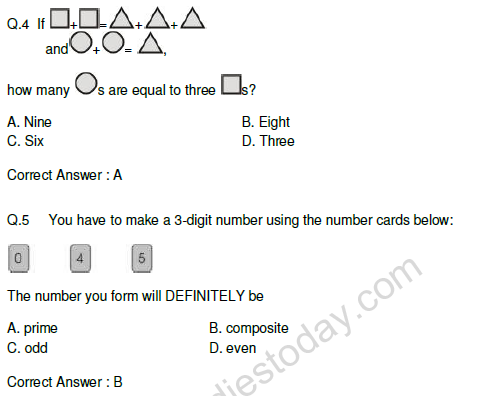 Q.6 How many 4-digit ODD numbers can you make using the digits 5, 3, 8, 0 without repeating any digit?
A. 8
B. 12
C. 16
D. 18
Correct Answer : A
Q.7 Three solids, when arranged one on top of the other, look like this when seen directly from above:

Which of the following could be the arrangement?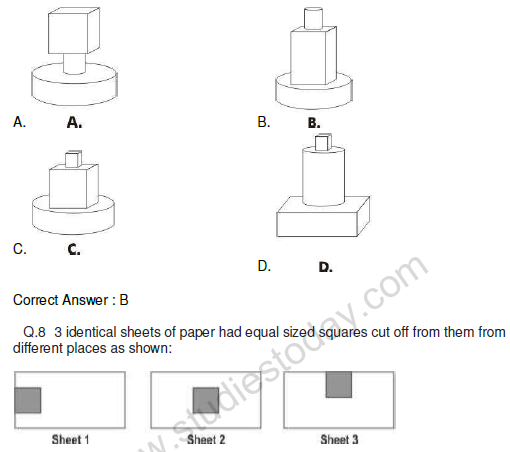 Which sheet now has the LEAST area?
A. Sheet 1
B. Sheet 2
C. Sheet 3
D. All have equal area
Correct Answer : D
Please click the link below to download CBSE Class VI Mathematics Question Bank for ASSET Exam
Books recommended by teachers