CBSE Class 7 Mathematics Question Paper Set E. You can download the past year question papers in pdf format with solutions from the links below. The students should practice the question papers of last year which will help them to understand the pattern on the papers and will help them to practice for the exams. You can download the question papers for last 10 years free by clicking links below. Refer to the extract below and download the full pdf file of question papers below.
Section – A
Q1. Find the supplement of 75º.
Q2. In ΔPQR and ΔSTU, PQ = ST, ∠P = ∠S and ∠Q = ∠T. Name the congruence criterion by which the two triangles will be congruent.
Q3. Write a pair of negative integers whose difference is -10.
Q4. Compare: 5.05 × 105and 5.5 × 104
Section – B
Q5. Solve 5l – 4 = 21 . 
Q6. a) Express 253.52324 in the standard form.
b) To what power ( -2 ) should be raised to get -32?
Q7. If ΔPQR ≅ ΔSKY, write all the corresponding sides and angles of both the triangles which will be equal.
Q8. Find the value of x. if l || m n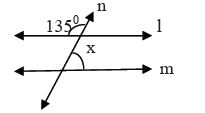 Q9. Shubham withdraws Rs. 6000 from his bank account in which he deposited Rs.8,500 the previous week. If withdrawal of amount from the account is represented by a negative integer, then how will you represent the amount deposited? Find the balance in Shubham's account after withdrawal.
Q10. Find 3 rational numbers between -2/5 and -1/8.
Please click the link below to download the full pdf file for CBSE Class 7 Mathematics Question Paper Set E.
Click for more Mathematics Study Material
›