Read and download free pdf of CBSE Class 7 Revision Assignment Set F. Get printable school Assignments for Class 7 all subjects. Standard 7 students should practise questions and answers given here for all subjects in Grade 7 which will help them to strengthen their understanding of all important topics. Students should also download free pdf of Printable Worksheets for Class 7 all subjects prepared as per the latest books and syllabus issued by NCERT, CBSE, KVS and do problems daily to score better marks in tests and examinations
Revision Class 7 all subjects Assignment Pdf
Class 7 all subjects students should refer to the following printable assignment in Pdf for Revision in standard 7. This test paper with questions and answers for Grade 7 all subjects will be very useful for exams and help you to score good marks
Class 7 all subjects Assignment for Revision
MATHS
Activity 1: FIND FISHY TAIL
8 fishes are drawn with some integers on their body and tail. Match the correct tail with correct fish after solving the problem on it. Do cut the fish and paste them in project file with correct fish tail on the plain side. On the ruled side, write the complete activity.
Note – Don't use any colours or sketch pen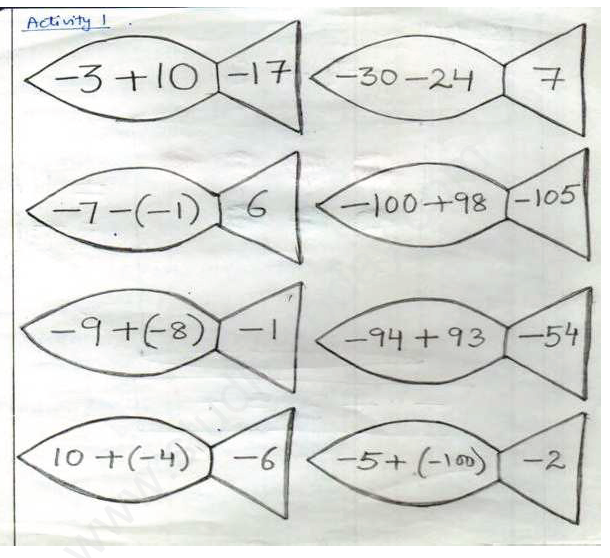 Where to do: Project file
Assessment Criteria: Accuracy in solving, Presentation, Creativity
Activity 2: TUMBLER OF RULES OF ADDITION OF INTEGERS
1. Draw a tumbler for each question given below in Project file (on the plain side)
a) – 3 + 5 b) – 7 + 4 c) 10 – 6 d) – 8 – 2
2. Paste a green bindi for a positive integer and a negative integer in the tumbler or (coloured paper in place of bindi)
3. Cancel each pair formed of a red and green bindi using pencil.
4. Count the remaining bindi and represent it with integer.
5. Write all the steps on the ruled side.
Click on link below to download CBSE Class 7 Revision Assignment Set F
Click for more Class VII Study Material
›