Read and download free pdf of CBSE Class 10 English Letter to Editor (6). Students and teachers of Class 10 English can get free advanced study material, revision notes, sure shot questions and answers for Class 10 English prepared as per the latest syllabus and examination guidelines in your school. Standard 10 students should download this study material which will give them more knowledge for all chapters in English and all important topics which are scoring and can get you more marks. Students should also download free pdf of Chapter wise Notes for Class 10 English prepared by school teachers as per the latest NCERT, CBSE, KVS books and syllabus issued this year and also download free worksheets and question papers available here to get higher scores in school exams and tests, also click here for more Study Material for Class 10 English
CBSE Class 10 English Letter to Editor (6). Please refer to the examination notes which you can use for preparing and revising for exams. These notes will help you to revise the concepts quickly and get good marks. 
Question- (Letter to editor) 
You are Sidhi/Sanjay of U-03 G Block Kasturi Nagar Udaipur-37.Write a letter to the editor of 'New Times' newspaper, II floor, Leader's Plaza, Udaipur expressing your concern about the decrease in the number of birds. 
Answer - 
House No- U/03 
G Block, Kasturi Nagar 
Udaipur -37
30th June 20XX 
The Editor 
New Times 
II Floor, Leader's Plaza 
Udaipur, Rajasthan 
Subject : Diminishing number of birds needs immediate concern. 
Sir 
Through the column your esteemed newspaper I would like to draw the attention of concerned authorities, NGOs and the readers towards rapid decrease in the population of birds in Udaipur.Udaipur is known to have more than 500 species of birds but many of them are on the verge of extinction.
According to the reports from the recent seminar held on Conservation of Birds, there was a time, when a number of birds would flock to the banks of lakes, Sajjangarh Wildlife sanctuary and forested canopy in Udaipur. These numbers have come crashing down in the recent years.The main reasons are rampant construction of buildings, bridges and flyovers, filling of swamps,mangroves water bodies , cutting of forests and of course, other ways of environmental pollution.
Many species have become endangered and the thousands of migratory birds flocking in season, which was a feast to our eyes, have left this place to more healthy places.It is time the people of Udaipur were made aware of this grave situation by conducting seminars and workshops and the policy makers and administrator thought over the engulfing problem and found solutions.
The locals should be given incentives for preserving the habitats of birds. Sanction for the construction of buildings, malls, bridges and so on should be given only after proper evaluation of the environmental impact of those constructions over the life of species there.
Let's not forget that birds are an important link in the food chain. I urge the government,environmentalists and the society to show their concern before it is too late. 
Yours truly, 
Sidhi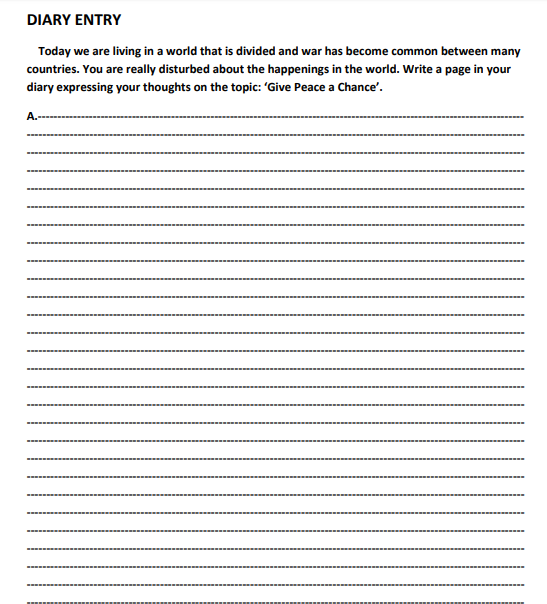 Please click the link below to download pdf file of CBSE Class 10 English Letter to Editor (6).
Click for more English Study Material
›