CBSE Class 10 English Language and Literature Syllabus 2020 2021. Students must always refer to the latest syllabus issued by CBSE before starting studies. Download the latest syllabus for 2020 2021 released by CBSE to plan your studies as per the latest syllabus and guidelines issued by CBSE NCERT. The syllabus, weightage of chapters, blue print of question papers and the design of question papers is issued every year for the benefit of students. Access and download syllabus for all subjects here.
SECTION A: READING 
This section will have two reading passages. 
1: A Factual passage 300-350 words with eight Objective Type Questions (including Multiple Choice Questions). 
2 A Discursive passage of 350-400 words with four Short Answer Type Questions to test inference, evaluation and analysis and four Objective Type Questions (including Multiple Choice Questions) to test vocabulary.
SECTION B: WRITING SKILLS AND CONTEXTUAL GRAMMAR
For writing tasks there will be internal choice.
3: Writing an Informal Letter on a situation /Descriptive Paragraph (person/place/event/diary entry) in about 150-200 words based on visual or verbal cue/s. 
4: Writing a story based on a given outline or cue/s in about 150-200 words.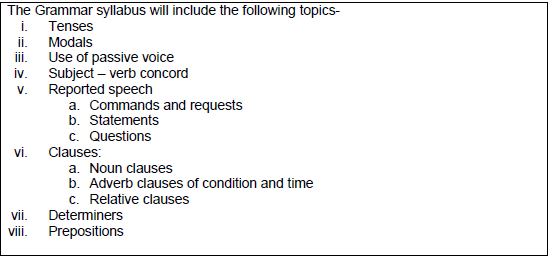 The above items may be tested through test types (grammar in context) as given below:
5: Cloze passage / Gap Filling / Editing.
6: Dialogue Writing/ Reporting dialogue on a given cue.
Please click the link below to download CBSE Class 10 English Language and Literature Syllabus 2020 2021
Click for more English Study Material
›