CBSE Class 1 EVS Revision Assignment Set B. Students are advised to refer to the attached assignments and practise them regularly. This will help them to identify their weak areas and will help them to score better in examination. Parents should download and give the assignments to their children for practice.
INTRODUCTION:
When we are hungry, we eat food. We need food to work and stay alive. Food helps us to grow and stay healthy. It also keeps us away from illness. Food energy to work and play.
We should drink 6-8 glasses of water everyday.
Good health starts with good food.
SOURCES OF FOOD:
Where does our food come from?
The food we eat comes from plants and animals.
Plants give us:
Fruits, Vegetables, Cereals, Pulses, Dry fruits, Spices and Oils.
Animals give us:
Milk, Eggs, Meat and Honey.
GOOD FOOD HABITS
•  Eat all meals- breakfast, lunch and dinner at proper times.
•  Wash your hands before and after eating.
•  Do not eat uncovered food .Dust and flies settle on exposed food.
•  Do not waste food.
•  Eat at a clean place.
 Q.1: Write the names of any five: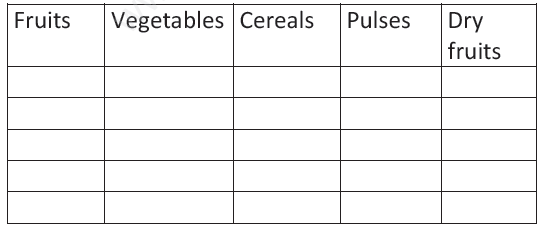 Please click the link below to download CBSE Class 1 EVS Revision Assignment Set B
Click for more Environmental Studies Study Material
›