Read and download free pdf of CBSE Class 1 English First day at School Assignment. Get printable school Assignments for Class 1 English. Class 1 students should practise questions and answers given here for All topics English in Class 1 which will help them to strengthen their understanding of all important topics. Students should also download free pdf of Printable Worksheets for Class 1 English prepared as per the latest books and syllabus issued by NCERT, CBSE, KVS and do problems daily to score better marks in tests and examinations
Assignment for Class 1 English All topics
Class 1 English students should refer to the following printable assignment in Pdf for All topics in Class 1. This test paper with questions and answers for Class 1 English will be very useful for exams and help you to score good marks
All topics Class 1 English Assignment
CLASS – 1
SUBJECT – English Literature
TOPIC — First day of School
Word Or Meaning :
Question : Kind
Answer : gentle
Question : Happy
Answer : cheerful
Question : Nervous
Answer : very worried
Question : Enjoy
Answer : fun
Question : Important
Answer : of great value
Make Sentences :
Question : Teacher
Answer : My teacher teaches me good habits.
Question : Kind
Answer : My father is a kind hearted person.
Question : School
Answer : I love my school.
Question : Grandmother
Answer : My grandmther tells me stories at night.
Question : Mother
Answer : My mother is very beauiful.
Who Said To Whom :
Question : "Everyone goes to school".
Answer : Mother says to Sara.
Question : "School is important".
Answer : Father says to Sara.
Question : "School is fun."
Answer : Arun says to Sara.
Question : "Will I make new friends?"
Answer : Sara says to her family.
Very Short Answer Type Questions :
Question : What is the colour of Sara's school bag ?
Answer : The colour of Sara's school bag is red.
Question : Who tells story to Sara ?
Answer : The grand mother tells story to Sara.
Question : What is the name of Sara's brother?
Answer : The name of Sara's brother is Arun.
Question : What does Tangy say?
Answer : Tangy says meow.
Q 1. Read the story.
Once, three fishes lived in a pond. One evening, some fishermen passed by the pond and saw the fishes. 'This pond is full of fish', they told each other excitedly. 'We have never fished here before. We must come back tomorrow morning with our nets and catch these fish!' So saying, the fishermen left.
When the eldest of the three fishes heard this, he was troubled. He called the other fishes together and said, 'Did you hear what the fishermen said? We must leave this pond at once. The fishermen will return tomorrow and kill us all!'
The second of the three fishes agreed. 'You are right', he said. 'We must leave the pond.'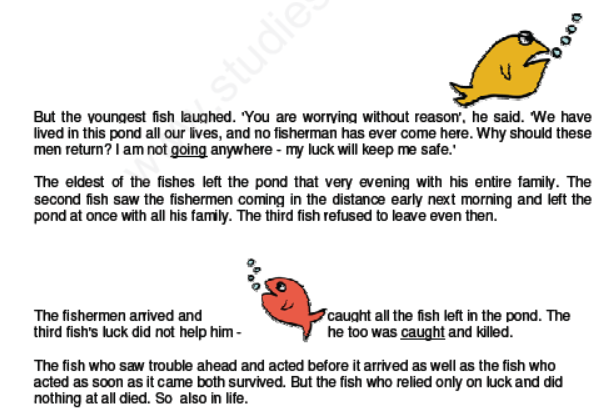 a) Complete the story.
How many fishes are there? There are………………Fish.
The fisher man wants to ……………………..the fish. The second fish said we
must……………….the pond. Otherwise the fisherman will………………….us. The
second fish said we must…………………..the pond. The youngest fish said I am
……………………………….leave the pond .My luck will favour me. The first and second
fish……………………the pond. The fisherman caught the…………………fish. It's luck
did not favour him. It was caught and ………………..
The moral of the lesson is "Take decision in time."
b) Choose eight nouns from the passage
(i) ………………………., (ii) ……………………………, (iii) …………………………..,
(iv) ………………………(v) ……………………………, (vi) …………………………..,
(vii) ……………………. (viii) ………………………….
c) Write the opposite of the underlined words.
(i) ………………………., × ……………………………
(ii) ………………………. × ……………………………
(iii) ………………………. × ……………………………
(iv) ………………………. × ……………………………
(v) ………………………. × ……………………………
(vi) ………………………. × ……………………………
(vii) ………………………. × ……………………………
Q 2. Learn the poem
You will recite it in your class
The Cow
~Robert Louis Stevenson
The friendly cow, all red and white,
I love with all my heart:
She gives me cream with all her might,
To eat with apple tart.
She wanders lowing here and there,
And yet she cannot stray,
All in the pleasant open air,
The pleasant light of day;
And blown by all the winds that pass
And wet with all the showers,
She walks among the meadow grass
And eats the meadow flowers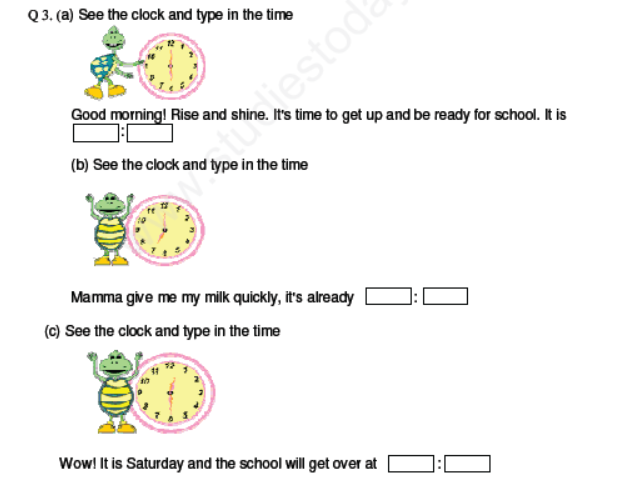 CBSE Class 1 English All topics Assignment
We hope you liked the above assignment for All topics which has been designed as per the latest syllabus for Class 1 English released by CBSE. Students of Class 1 should download and practice the above Assignments for Class 1 English regularly. We have provided all types of questions like MCQs, short answer questions, objective questions and long answer questions in the Class 1 English practice sheet in Pdf. All questions have been designed for English by looking into the pattern of problems asked in previous year examinations. 
Assignment for English CBSE Class 1 All topics
Our team of expert teachers have referred to NCERT book for Class 1 English to design the English Class 1 Assignments. If you practice at least one test paper daily, you will get higher marks in Class 1 exams this year. Daily practice of English course notes and related study material will help you to clear all your doubts and have stronger understanding of all concepts. You can download all Revision notes for Class 1 English also from www.studiestoday.com absolutely free of cost.
All topics Assignment English CBSE Class 1
All questions and their answers for the assignment given above for Class 1 English have been developed as per the latest curriculum and books issued for the current academic year. The students of Class 1 can rest assured that the best teachers have designed the questions of English so that you are able to revise the entire syllabus if you do the assignments. Lot of MCQ questions for Class 1 English have also been given in the worksheets and assignments for regular use. All study material for Class 1 English students have been given on studiestoday.
All topics Assignment CBSE Class 1 English
Regular assignment practice helps to get a more comprehensive understanding of All topics concepts. Assignments play a crucial role in understanding All topics in CBSE Class 1. Students can download all the assignments of the same chapter in Class 1 English in Pdf format. You can print them or read them online on your computer or mobile.
CBSE English Class 1 All topics Assignment
CBSE Class 1 English latest books have been used for coming up with the latest questions and solutions for the above assignment. If you have revised all concepts relating to All topics then you should attempt all questions given in the test sheets above. We have also provided lot of Worksheets for Class 1 English which you can use to further make your self stronger in English
Where can I download in PDF assignments for CBSE Class 1 English All topics
You can download free Pdf assignments for CBSE Class 1 English All topics from StudiesToday.com
The assignments for All topics Class 1 English for have been made based on which syllabus
The All topics Class 1 English Assignments have been designed based on latest CBSE syllabus for Class 1 English issued for the current academic year
Can I download and print these printable assignments for English All topics Class 1
Yes, These printable assignments for All topics Class 1 English are free to download and print
How many topics are covered in All topics English assignments for Class 1
All topics given in All topics English Class 1 Book for the current academic year have been covered in the given assignment
Is there any charge for this assignment for All topics English Class 1
No, all Printable Assignments for All topics Class 1 English have been given for free and can be downloaded in Pdf format
How can I download the printable test assignments for All topics English Class 1
Just click on the View or Download button below, then another window with the Pdf will be visible, just click on the Pdf icon to download the free assignments for All topics Class 1 English
Are these assignments available for all chapters in Class 1 English
Yes, apart from English you can download free assignments for all subjects in Class 1
Can I download solved assignments for All topics CBSE Class 1 English
Our team of expert teachers at studiestoday.com have provided all answers for the practice questions which have been given in Class 1 English All topics assignments