CBSE Class 1 Computer Science Syllabus and Guidance available in Pdf for free download. The latest syllabus for Class 1 Computers have been issued by CBSE based on which Grade 1 students will have to prepare for examinations by CBSE, NCERT and KVS in Standard 1. The latest CBSE syllabus has been used to design NCERT book for Class 1 Computers based on which exams for Grade 1 Computers will be conducted. Refer to MCQ Questions for Class 1 Computers with answers and also download more latest study material for all subjects
Computer Science and Guidance Class 1 CBSE Syllabus
Class 1 Computers students should refer to the following curriculum for NCERT Class 1 Computer Science and Guidance. These CBSE NCERT KVS Syllabus for Grade 1 Computers will be very useful for preparing for upcoming exams and help you to score good marks
Computer Science and Guidance CBSE Syllabus Class 1
CBSE Class 1 Computer Science Syllabus and Guidance. Download the latest syllabus to do your studies as per the latest guidelines issued by CBSE NCERT. The syllabus, weightage of chapters, blue print of question papers and the design of question papers is issued every year for the benefit of students. Access all syllabus for all subjects here. 
1ST STANDARD SYLLABUS
What: At the end of 1st Std, a child should know:
• Concepts: Regard the computer as a machine with various parts and associated functions (that can be controlled/directed).
• Usage Skills: Identify all the parts of a computer; use keyboard (arrow enter/return keys) and mouse (single/double click) as input devices; open applications, such as Music, Paint, or Games and their rudimentary use.
• Social Aspects: Maintaining cleanliness; dust-free area; not spilling food etc; orderliness in handling peripherals and sharing resources.
Why: At the end of 1st Std, it is enough for a child to be able to relate to a computer as an interesting entity with various parts and functions (Existence Awareness). More topics are not required because the goal is to simply introduce the computer as a tool for doing other tasks. Since it can be a highly distracting toy, the content is deliberately low-key. However, fewer topics are not desirable because the child should not get left behind in terms of his/her peers or get overwhelmed at a later age.
How: There should be one class per week, roughly as per the following schedule: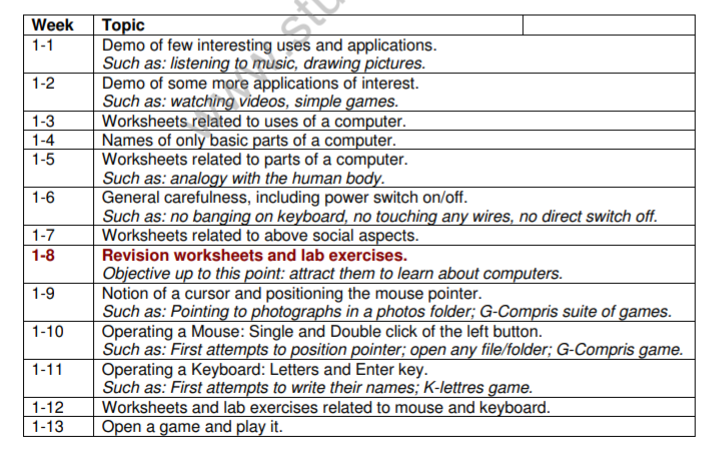 Please click the link below to download CBSE Class 1 Computer Science Syllabus and Guidance.
Books recommended by teachers