Read and download free pdf of CBSE Class 1 Moral Science Worksheet Set A. Students and teachers of Class 1 Moral Science can get free printable Worksheets for Class 1 Moral Science in PDF format prepared as per the latest syllabus and examination pattern in your schools. Standard 1 students should practice questions and answers given here for Moral Science in Grade 1 which will help them to improve your knowledge of all important chapters and its topics. Students should also download free pdf of Class 1 Moral Science Worksheets prepared by school teachers as per the latest NCERT, CBSE, KVS books and syllabus issued this academic year and solve important problems provided here with solutions on daily basis to get more score in school exams and tests
Moral Science Worksheet for Class 1
Class 1 Moral Science students should refer to the following printable worksheet in Pdf in standard 1. This test paper with questions and answers for Grade 1 Moral Science will be very useful for exams and help you to score good marks
Class 1 Moral Science Worksheet Pdf
CBSE Class 1 Moral Science Worksheet (1). Students can download these worksheets and practice them. This will help them to get better marks in examinations. Also refer to other worksheets for the same chapter and other subjects too. Use them for better understanding of the subjects.
1. Hard Word:
(i) Happy
(ii) Animals
(iii) Everywhere
(iv) Buffalo
(v) Giraffe
(vi) Forest
(vii) Squirrel
(viii) Turtle
(ix) Suckling
(x) Duckling
2. Can you name me?
(i) I mostly live on tree. Monkey
(ii) I live in water. Fish
(iii) I lay eggs in nest. Bird
(iv) I always bark on strangers. Dog
(v) I eat carrots. Rabbit
(vi) I give you milk. Cow
(vii) I give you egg to eat . Hen
(viii) I always say meow – meow . Cat
3. Fill in the blanks:-
a. ___________ is the largest sea animals.
b. Camel is the _________ of desert.
c. Wild animals live in the _________ .
d. Dog is a ______ animal.
Answer (i) Blue whale (ii) ship (iii) jungle (iv) pet
5. Define the following:
Answer  Suckling animal:- Animals that feed their babies with milk are called suckling animal. Ex- Sheep , Goat etc.
6. Answer the following questions :
i) What are wild animals? Give an example?
Answer  Animals that live in forest are called wild animals. Ex- Lion , Wolf etc.
ii) What are domestic animals? Give an example?
Answer  Animals that can be kept at home for economic growth are called domestic animals. Ex- Cow , Goat etc.
iii) What are pet animals? Give an example?
Answer  Animals that are kept at home for our pleasure are called pet animals. EX- Dog , Cat etc .
iv) What are arboreal animals? Give an example?
Answer  Animals that live on trees are called arboreal animals. Ex- Monkey, Squirrel etc.
7. True and False:
Housefly is an insect
Answer  True
Wolf is a pet animal
Answer  False
Turtle live in water
Answer  True
Animals take care of their babies
Answer  True
8. Give reason?
i) Fish breathe under water while monkey cannot?
Answer  Fish breathe under water while monkey cannot because fish have gills but monkey does not have gills.
9. Note: Activity for students:
Answer  Paste the picture of wild animals on A4 sheet & write their young ones name.
Q1: Tick against the things a good student should do and cross the others.
1) Obey your teachers. ( )
2) Fight with your classmate( )
3) Talk while the teacher is teaching. ( )
4) Do your work neatly.( )
5) Share your things. ( )
6) Brush your teeth twice a day. ( )
7) Wear clean clothes.( )
8) Throw bits of paper on the floor. ( )
9) Take a bath everyday( )
10) Eat meals without washing your hands.( )

Q2:In the word grid below, you you remain clean. Find these words and circle them.
Q3:Colour the foods that are healthy .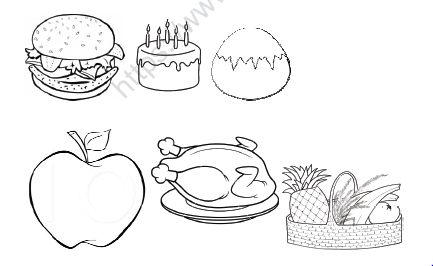 Please click the link below to download CBSE Class 1 Moral Science Worksheet (1)