Read and download free pdf of CBSE Class 3 Revision Assignments Set F. Get printable school Assignments for Class 3 all subjects. Standard 3 students should practise questions and answers given here for all subjects in Grade 3 which will help them to strengthen their understanding of all important topics. Students should also download free pdf of Printable Worksheets for Class 3 all subjects prepared as per the latest books and syllabus issued by NCERT, CBSE, KVS and do problems daily to score better marks in tests and examinations
all subjects Assignment for Class 3
Class 3 all subjects students should refer to the following printable assignment in Pdf in standard 3. This test paper with questions and answers for Grade 3 all subjects will be very useful for exams and help you to score good marks
Class 3 all subjects Assignment Pdf
SUMMER BREAK ASSISGNMENT
ENGLISH
1. Read good story books.
2. Revise the syllabus of April & May.
3. Learn poem no. 1 to 6 from Poetry Magic.
4. Project‐write any 4 ways in which you can save water at home. Draw or
paste pictures also.
E.V.S.
1. Read newspapers daily and watch relevant news channels.
2. Revise L‐1 and L‐2
3. On A‐3 size sheet, paste pictures of junk food and healthy food. Also write
disadvantages of junk food.
4. Make a decorative item using best out of waste.
Mathematics
1. Revise U‐1 and U‐2
2. Learn tables 2 to 20
3. Do 5 sums each of addition, subtraction, multiplication and division in
practice notebook weekly.
4. On A‐3 size sheet make Roman Numbers from 1 to 10 with the help of
matchsticks.
Science
1. Revise L 4 and L5.
2. Make interesting patterns using different types of leaves on A3 size sheet.
3. Make a project report on any 10 endangered and extinct birds. Collect the
information and pictures from internet.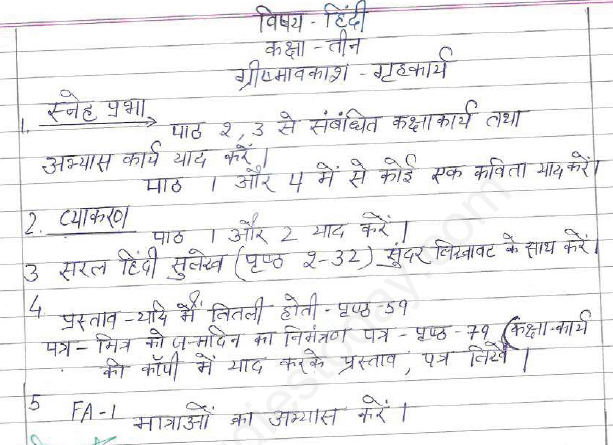 Please click the below link to access CBSE Class 3 Revision Assignments Set F
Click for more Class III Study Material
›