Read and download NCERT Class 5 English Marigold Sing a song of Poeple chapter in NCERT book for Class 5 English. You can download latest NCERT eBooks for 2021 chapter wise in PDF format free from Studiestoday.com. This English textbook for Class 5 is designed by NCERT and is very useful for students. Please also refer to the NCERT solutions for Class 5 English to understand the answers of the exercise questions given at the end of this chapter
Eveybody seems to be in such a hurry
these days! I wonder why?
Sing a song of people
Walking fast or slow;
People in the city,
Up and down they go.
People on the side walk,
People on the bus;
People passing, passing,
In back and front of us.
People on the subway
Underneath the ground;
People riding taxis
Round and round and round.
People with their hats on,
Going in the doors;
People with umbrellas
When it rains and pours.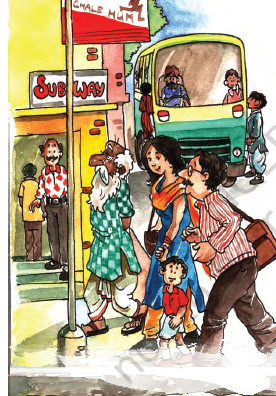 Please refer to attached file for NCERT Class 5 English Sing a song of Poeple
Click for more English Study Material
›