CBSE, Class IV Mathematics
Download Class 4 Mathematics NCERT Solutions, Worksheets, Question Papers and Sample Papers with solutions, latest NCERT Books, and syllabus. All study material has been prepared based on latest guidelines, term examination pattern and blueprint issued by CBSE and NCERT. Also get social science quiz for class 4 questions in PDF Form.
Click below for Class 4 Mathematics NCERT Solutions, worksheets with important questions and answers, updated syllabus, NCERT CBSE books, HOTs, Multiple Choice Questions (MCQs), easy to learn concepts and study notes of all Class 4 Mathematics chapters, online tests, value based questions (vbqs), sample papers and last year solved question papers. Other then Mathematics , 4th standard Science Syllabus is also available in PDF Form.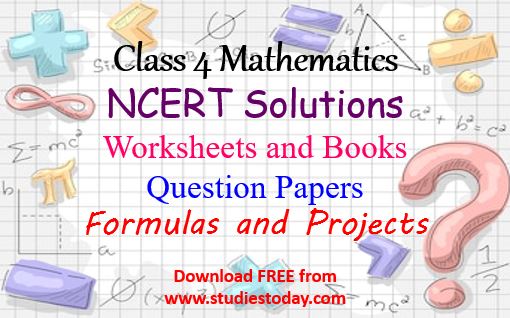 Read the latest news and announcements from NCERT and CBSE below. Important updates relating to your studies which will help you to keep yourself updated with latest happenings in school level education. Keep yourself updated with all latest news and also read articles from teachers which will help you to improve your studies, increase motivation level and promote faster learning