Central Board of Secondary Education, CBSE is to conduct the 10th and 12th Board Examination 2020 from February 15, 2020.
Due to University Admissions, CBSE has shifted Board Exams dates from 1 March to February 15 from 2019. This year too CBSE would be making changes in the Board Exam Data Sheet.
In 2019, Board shifted its examination dates forward with a significant change of starting with vocational subjects. But this year, CBSE proposes to have main examinations first.
Official statement has also shared that the subject with the maximum number of appearing students will be the first examination. Then it will follow descending thereafter.
Expected alterations by CBSE in board exams of 2019-20:
English Core will be a subject in which the maximum number of student will be appearing so it is expected that the first examination will be English Core.
Regarding Practical Examination, Board shared its plan for external practical examination at the examination centre.
Since there have been no lead since then regarding this plan so we can assume that the Board dropped it.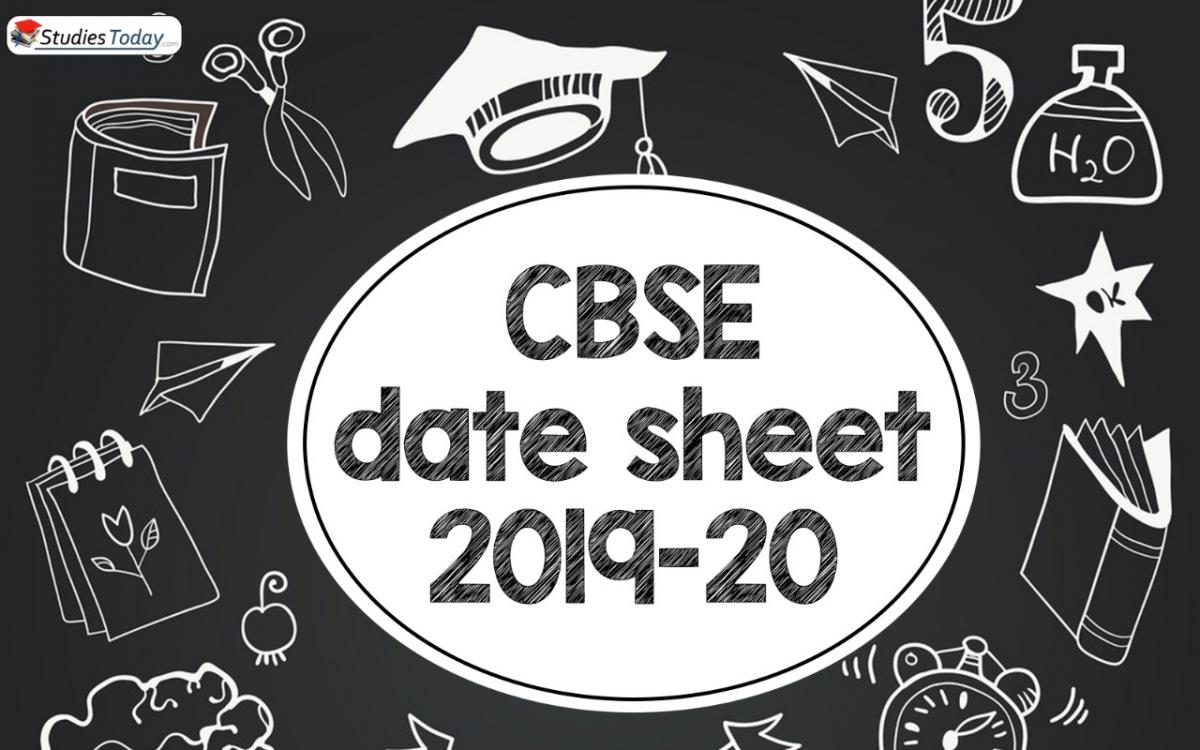 Expected dates for 10th and 12th CBSE boards: 
We can assume that practical examination will be held from January 10 to February 10.
Every year more than 2 million students appear for 10th and 12th CBSE Board Examination. The annual examinations of Class X and XII conducted by CBSE are scheduled on the basis of Date Sheet announced by CBSE on its Official Website.
Datesheet preparation is in a manner where CBSE put all efforts into giving reasonable gaps for preparation.
Gaps between examinations are also given in such a manner that students can also appear for major tests like Joint Engineering Exam and National Eligibility cum Entrance Test.
After the efforts of CBSE, it is up to the students to manage their time and preparation for Board Exams and major Tests as well.
Guidelines for Datesheet of boards 2019-20:
• It is also very necessary for the students to check for the date sheet on time through the official site. Students must check the Date Sheet from CBSE's Official Site only.
• Students must also be careful about the dates as there are multiple subjects from different streams in the Data Sheet.
Practicals
Expected from 16th January to 15th February
Chances to be organised in allotted centres, if not in the respective schools itself.
 Theory exams
 Expected from 15th February to 30th March.
 At allotted centres.
Results
Expected till end of April month
On the official website of CBSE.(cbse.nic.in)
Admit cards:
About admit cards there is no such information. But according to the expected dates of exams, CBSE should issue admit card in December or January.
Students must follow the official site of CBSE to ensure the updates about the admit card. Prefer to download admit card from official sites only.
Students must ensure carrying admit cards in all of the examination.
Admit cards are necessary as they contain all the necessary information to be filled in the answer booklets. Centre code, school code and roll number should be filled with utmost care.
Also, students must keep in mind of reaching their respective centres on time.
Reaching centre couple of minutes before on the first day of exam will help them find their assigned class. Some precious time and concentration is lost while finding the assigned classroom in a hurry.