Get FREE CBSE printable worksheets for all Class 1 to Class 12 for all subjects for all important topics. CBSE worksheets for class 1 to 12 have been designed to help students understand various topics properly. Practice these worksheets to get better marks in school exams. Also download NCERT worksheets as per latest syllabus and blueprints issued. Click on the class below and subject to download pdf printable worksheets for practice and get better marks in class tests and exams. All worksheets made teachers of best schools in India
Printable Worksheet for Class 1 to Class 12 is available on StudiesToday. All worksheets in PDF have been made as per CBSE NCERT and KVS syllabus and examination guidelines by experienced teachers who have many years of experience in teaching children. Worksheets are made in a way so that all important topics in a chapter are covered and students have sufficient questions and answers to practice all chapters. Students should free download worksheets for all classes and subjects and daily practice them to get a better understanding of their subjects. We have the largest database free printable worksheets and assignments for Class 1, 2, 3, 4, 5, 6, 7, 8, 9, 10, 11 and Class 12. We have been encouraging our students to download these test sheets, practice them daily, and show the answers to their teachers and parents. All worksheets which have been prepared by various schools and have been used by school students have been found to be really useful. Please download these free printable worksheets now and practice them to get better marks in your school tests and exams
Printable Worksheets for Class 12
Download Worksheets for Class 12 all important subjects like Physics, Chemistry, Biology, Mathematics, Accountancy and all other subjects designed as per the Board Examination pattern. All printable worksheets can be downloaded in PDF and are available with answers for the benefit of students
Printable Worksheets for Class 12 Mathematics
Refer to Class 12 Mathematics Worksheets covering all chapters given in your NCERT textbook. All standard 12 worksheets have been designed by expert Maths teachers and can be downloaded in PDF
Printable Worksheets for Class 11
Download Worksheets for Class 11 for all important subjects like Mathematics, Physics, Chemistry, Biology, Accountancy and all other subjects. These worksheets will help you to practice questions for all important topics given in chapters of your Class 11 NCERT book
Printable Worksheets for Class 11 Mathematics
Refer to Class 11 Mathematics Worksheets for all chapters. All worksheets have been designed by expert teachers and can be downloaded free
Printable Worksheets for Class 10
Class 10 students should practice lot of worksheets so that they can get thorough understanding of all subjects. Our teachers have designed worksheets for all important topics which are really scoring. Download all in PDF free by clicking on the subject wise links below
Printable Worksheets for Class 10 Mathematics
Maths is an important and scoring subject in class 10. If you are looking for worksheets to practice questions and answers, then you can click on the links below. We have provided chapter wise Class 10 Maths worksheets
Printable Worksheets for Class 9
Class 9 helps to build up base for senior classes. You have to practice lot of problems to gain expertise in each subject. You can click below to download free printable worksheets for all subjects in standard 9
Printable Worksheets for Class 9 Mathematics
Studens find Maths in Class 9 difficult. To help you we have designed worksheets with solutions for all chapters in Class 9 Maths. You can download them from the links below. All Maths worksheets for class 9 are free
Printable Worksheets for Class 9 History, Economics, Geography, Civics
Click on links below for a great collection of free worksheets for Class 9 Social Science. All worksheets have been designed based on the latest syllabus issued for current academic year
Printable Worksheets for Class 8
Click on links below for a great collection of free worksheets for Class 9 Social Science. All worksheets have been designed based on the latest syllabus issued for current academic year
Printable Worksheets for Class 8 Mathematics
Mathematics in Class 8 is a very interesting and scoring subject. If students are able to understand and practice lot of questions for each chapter given in NCERT Book for Class 8 Maths then they will score very good marks. We have provided below collection of Class 8 Maths worksheets for all topics
Printable Worksheets for Class 8 History, Economics, Geography, Civics
Class 8 Social Science tells about India's History, civic structure and about the economy. Students should read the CBSE NCERT books to clearly understand all topics and practice the worksheets given below on daily basis
Printable Worksheets for Class 7
We have the best collection of Worksheets for Class 7 designed as per the latest curriculum and test guidelines issued by CBSE. You can download all worksheets from the links below. You can send us your questions and our teachers will provide you a response
Printable Worksheets for Class 7 Mathematics
Practising maths worksheets will help you get the best scores in Maths Class 7 exams. To help you we have provided here the best worksheets with questions and answers covering all NCERT chapters
Printable Worksheets for Class 6
Standard 6 students should download worksheets in PDF and use them for daily practice. We have provided below worksheets for all subjects in Class 6 to help you understand all topics and get more marks. Download all worksheets for free
Printable Worksheets for Class 6 Mathematics
Maths teachers always suggest students to practice maths questions daily. Students need full database of solved worksheets for Class 6 Maths. We have provided below all worksheets in PDF which parents can download and give to their kids to practice on daily basis
Printable Worksheets for Class 5
No need to search any where else. We have provided below the best collection of Class 5 worksheets for all subjects given in CBSE NCERT books in grade 5. You can click on the links below to download free
Printable Worksheets for Class 4
Junior classes help to build strong academic foundation. To support that kids need to understand all topics properly. We have provided here great collection of class 4 worksheets which will support in promoting learning and knowledge in students
Printable Worksheets for Class 3
Class 3 students should practice questions based on interesting worksheets. Kids should be able to learn and enjoy. To help students and their parents please see below the complete database of free worksheets for young kids in Grade 3. These will help them to understand and revise all important topics.
Printable Worksheets for Class 2
If you are looking for worksheets for your child in Grade 2 then you have come to the right place. You can access all Grade 2 worksheets for free by clicking on the links below. All standard 2 worksheets are free for you to download
Printable Worksheets for Class 1
We bring you here the best collection of Class 1 worsheets that too free. Parents and teachers can download all worksheets for various subjects and give to children for daily practice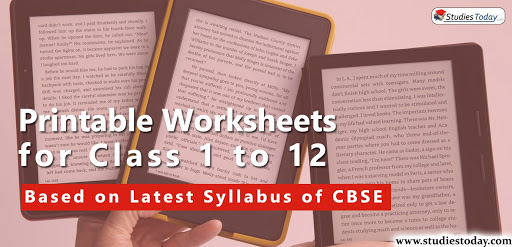 Refer to the below links for Class 1 to Class 12 FREE Printable Worksheets
Benefits of doing CBSE Worksheets?
If you are also one such candidate having that thought process, then need you to change. No matter whether you are a brilliant or week student, if you do not practice the CBSE worksheets, then the marks on your examination will surely become less.
- Here are the Benefits
- Improves your problem-solving skills
- Helps you improve your hand-writing
- Practice Diagrams and shades
- Know your ability with CBSE worksheets
CBSE worksheets Improve your problem-solving skills
A student who never uses worksheets to practice will never complete the entire question on time because at least in one area, he/she will get stuck while solving the problems.
By doing the regular practice with the worksheets, students will get the speed to solve the problems one by one.