Competency is a set of skills, abilities, knowledge that helps an individual perform a given task in real life. Every learning should go into the imbibing of these skills to lead a productive and joyful life. The NATIONAL EDUCATION POLICY-2020 calls for shift towards competency-based learning and education, which is an outcome‐based approach to ensure proficiency in learning by students through demonstration of the knowledge, skills, values and attitudes required for dealing with real life situations at the age and grade appropriate level.
Accordingly, to promote competency-based Education in schools, Central Board of Secondary Education in association with Central Square Foundation has developed an interactive online course on 'Competencybased Education' for the teachers and school leaders. The course is divided in four modules designed to deepen educators' understanding around the best practices in competency-based teaching-learning, assessment design and processes underlying CBE models.
Therefore, all Principals of Schools affiliated to CBSE have been requested to join this free online course from DIKSHA along with teachers mandatorily from 9th September onwards.
Step1: Download the DIKSHA App on your Android smartphone by clicking on the following link: http://bit.ly/cbse-diksha
Step 2: Sign in using existing DIKSHA account OR Sign in via google OR register yourself on DIKSHA using email id or mobile number
Step 3a: Scan the QR code below using DIKSHA mobile application;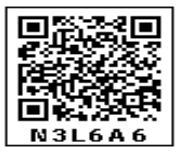 Step 3b: Click on the following links to open the course on DIKSHA mobile application or desktop/laptop web browser: http://bit.ly/CompetencybasedEducation
For technical queries (if any), School can email to support@diksha-ncte.freshdesk.com