For 2021-22 CBSE has launched MCQ question-based examination for Term 1 & Term 2 board examinations. The entire syllabus has been divided into two parts each including 50% of the entire syllabus. To score well, students must practice as per the new CBSE term-wise syllabus Class 10 and 12 for Term 1 & 2 Board examinations for 2021-22. CBSE has also released the revised syllabus for classes 10 & 12 for the boards of 2021-22.
This new pattern of questions and syllabus is made in such a way that it doesn't hamper the learning of the students. The new assessment has enough flexibility and adaptability for the students to learn. After rationalization, the entire syllabus has been divided into two parts each of 50% of the syllabus. It has been done in such a way that there is interconnectivity between topics and concepts. Students must practice accordingly.
The term 1 examination is scheduled for November - December 2021 and the term 2 is scheduled for March - April 2022 time slots. The term 1 examination includes - three periodic tests, student enrichment, portfolio, and practical work/project/speaking - listening activities. MCQ-based examination for term 1 will cover the entire rationalized syllabus and will be held at the end of term 1. It will be a 90 minutes exam. Questions will be like case-based MCQs and assertion - reasoning type MCQs. Students can download their term-wise syllabus from www.cbseacademic.nic.in
CBSE has proposed to conduct the Term 2 examination in examination centers. It will be a 2 hours examination. Students must prepare themselves by practicing the entire rationalized syllabus for term 2. Questions will be case-based, situation-based, open-ended, short answers, and long answers. In case the situation is not good enough to hold the examinations in the examination centers then a 90-minute MCQ-based examination will be conducted.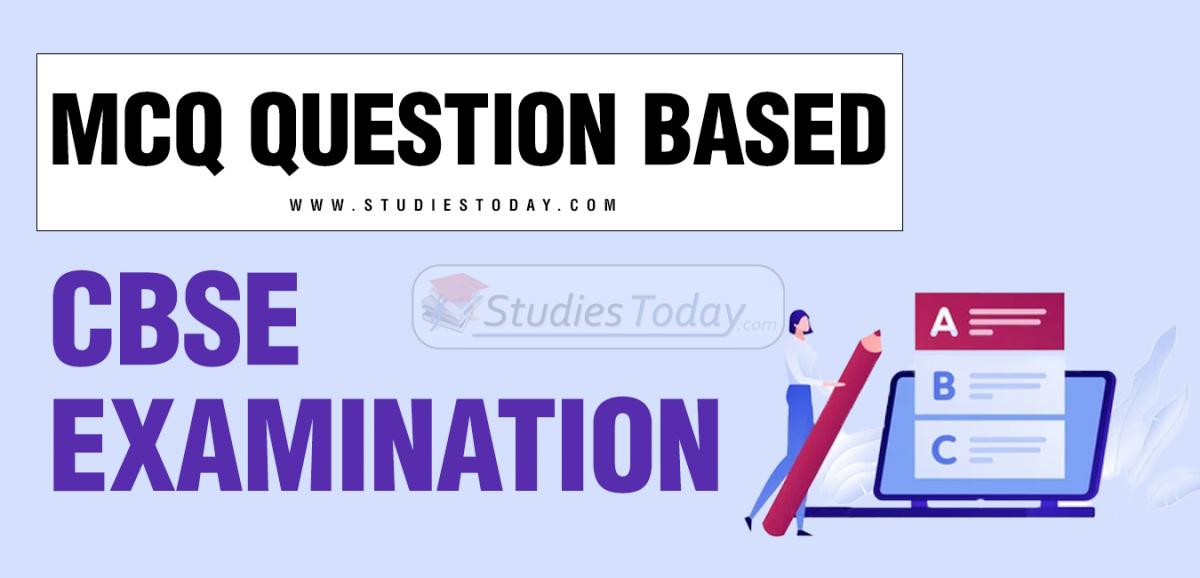 Practice Latest Typologies of MCQs:
Term 1 will be a 90 minutes examination. The term 2 will also contain various types of questions like case - based on short and long answer-type questions. Students must get themselves the right books for preparing. CBSE MCQs chapter-wise question bank will be of great help to the students. MCQs based on stand-alone, assertion-reasoning MCQs and case-based MCQs will help the students to understand well and prepare. Students will become adept at handling these types of questions.
MCQ based questions from Class 6 to Class 12
Students preparing for CBSE board examinations should be aware of Objective Type questions. Students can refer to Past CBSE sample question papers. Students should give it utmost importance and should practice it as it covers the entire syllabus in a smart way.
TIPS while solving MCQ questions
Students must accelerate their minds before starting.
Students should read the questions carefully and then answer.
In one go, do not try to solve everything.
If possible take half to one-minute breaks.
Students should learn as many shortcuts as they can and apply those in the examination.
Students must use the method of elimination.
Importance of Multiple Choice Questions:
Multiple choice questions (MCQs) are generally helpful and widely accepted as objective test patterns. It helps to measure the most important educational outcomes like - problem solving, knowledge, understanding along with judgement. The following points will help the students to understand the importance of it.
The very first obvious point is that the answer is visible to the students. There can be a situation where the student is unable to recall the answer due to exam pressure in his memory. But seeing the options in the question will help the student in recalling the answer.
Multiple choice questions are mainly short and sharp-natured which helps the examiners the chance to give more questions to the students which tests better how much the students have in-depth knowledge about the subject.
For any online examination, multiple-choice questions are the best because it helps the students to concentrate on the papers. It also helps the students to find out with an explanation of why the answer is correct.
Multiple-choice questions are a very accessible way for the students to review their entire syllabus. They can also verify how much they understand each and every chapter and can get feedback on managing their studies.
Multiple choice questions allow objective scoring to the students. There can be only one particular right answer for one particular question. Therefore, marker bias is eliminated here.
Multiple choice questions increase efficiency and allow to teach large cohorts. It is also easy to score in MCQs.
Multiple choice questions are easy on the graders too. Long-type questions, essays, and short answer questions are effective but they delay in grading. Teachers can quickly and efficiently check the efficiency of the students through MCQ questions.
Multiple choice questions are flexible and easy to answer. It allows fast testing through vast content. It increases the validity of any assessment by focusing on typically broad representation obviously on the material.
How to prepare for MCQ questions in CBSE:
CBSE MCQ Question Banks: CBSE MCQ question banks for term 1 and term 2 will be of great help to the students. Solving question banks is very effective and it has survived till now. They prepare the students in a multi-faceted manner and ensure the skills and abilities are polished simultaneously. Students will understand the pattern, marks division, important topics to focus on and cover the entire syllabus.
Procrastinating is not allowed: Students must set their daily goals of studying. They should not slack even a little bit because the mentality is what really matters. They should not pull off one day's planning to the other and should prepare themselves mentally and physically. Achieving targets daily will help them to keep track of their studies. It will eventually help them to revise the syllabus multiple times.
Staying Healthy - For students, staying healthy is very important. Eat healthily, work out and enough sleep will help their mental and physical health. Drink enough water along with fruits and vegetables. They should also take breaks after studying for long hours. It helps the brain and eyes to rest.
Preparation for exams is quite tough but practicing regularly and staying persistent is all that matters.