Unseen passages, also known as comprehensions are not just questions that are asked in your school English paper but are even important for your competitive exams later in life. It may seem the easiest thing when you attempt those questions in the English examination as the answers are straightaway copied out of the paragraph, but for your exams at a later stage, the questions would not be that simple. Unseen passages are aimed at testing one simple thing in the students, 'their ability to read between the lines.' So do not sit under the impression that you read the passage and straightforward questions will be asked wherein you simply have to paraphrase and write down the answers. It can often be much more than that.
Let's take a look at some of the reasons why practicing these passages beforehand can be helpful for you.
1. Increases reading speed.
When you are taking an examination in a stipulated time duration, you cannot afford to waste even a minute. Unseen passages are often long and take time to read. The more time you spend on reading, the lesser time you'll get for answering the questions. So if you practice reading these passages regularly, it will surely increase your reading speed and help you cover the whole passage faster.
2. An idea of the kind of questions which will be asked.
There is no end to the questions that one can base on an unseen passage. Anything and everything ranging from the names of the characters to the history of civilization can be asked when it comes to these passages. So if you have already practiced some sample passages, you will get an idea of how the questions are framed and how you should attempt them in the exam.
3. A chance of some passage being repeated.
There are some novels or prose pieces which are quite famous amongst examiners when they set question papers. If you have practiced a sufficient number of passages, it is quite possible that you may just come across one of the same ones in your examination. Maybe a famous scene from some play or a passage from some classic novel. Then it wouldn't quite be 'unseen' for you. An ideal situation for you to attempt it.
4. Improvement of vocabulary and understanding of language.
Vocabulary is one of the most important things when attempting unseen passages. Since you have not read that passage before, you might just come across some complicated word you do not know the meaning of. In such a situation, if you have already practiced certain passages, you might have come across many new words and understood their meaning. So now if any of them is repeated, it's a win-win situation for you.
Access Unseen Passages for all classes here
5. An understanding of different tones used by the author.
Every passage ever written by an author has been written in a certain context with a certain message he or she wanted to express. So if you practice different passages wherein different authors have used different tones, it will help you to understand how each tone works. This can be critical, analytical, interrogative and so on. If you get an idea of the tone used, it will further make it easier to answer the questions asked. Unseen Passage for Class X English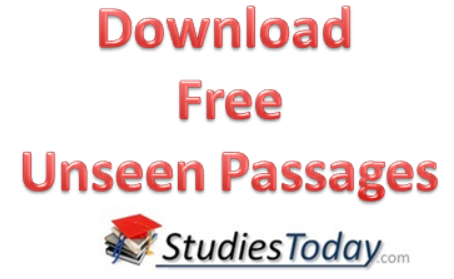 All the reasons above are strong enough to support the fact that having a good practice of at least 20 to 30 unseen passages before you attempt an examination is quite vital. This practice will not only help you answer these questions faster but will also improve your ability to 'comprehend' and answer the questions in a more effective manner.