Download Class 3 NCERT Solutions, NCERT Books, Worksheets and Assignments, Sample Papers and Question Papers, online tests and other useful study material prepared based on latest guidelines, term examination pattern and blueprints issued by CBSE and NCERT. Click on the subjects links below to access study material and have a look at CBSE class 3 EVS study material.
Click below for Class 3 subject wise printable worksheets, assignments, syllabus, ncert cbse books, ncert solutions, hots, multiple choice questions (mcqs), easy to learn concepts, chapter wise study notes, online tests, value based questions (vbqs), test papers, sample papers and last year solved question papers. Moreover, PDF of class 3 English Textbook is also available in PDF Format.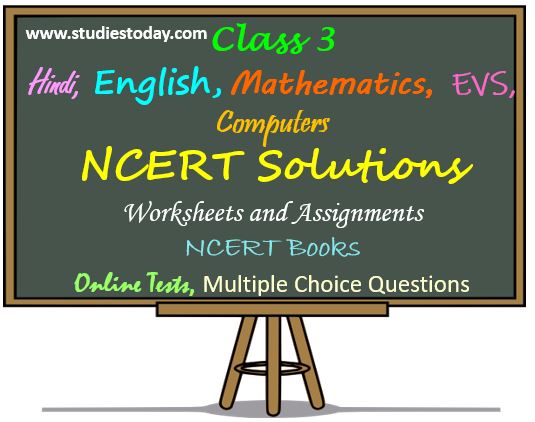 Latest CBSE News
So if you are one of the students who has just given their 10th class exam and confused about what to pursue next in your life then you have come to a right place. Today in this article we will be talking about some of the courses which students can pursue after their 10th class exam. Mostly students get confused after their 10th on what to choose and what to leave. Many students just take...

The Central Board of Secondary Education has improved the introduction of arts in regular learning methodology for all subjects from class 1 to class 11. The step is being taken to incorporate suggestions from associates, proposed by National Curriculum Framework (NCF) that stated: "we must bring the arts precisely into the field of the curricular". All the details regarding the implementation,...

Your concentration level is something that is not only important as you conduct your daily studies and learning, but is also something that is required in day to day activities. Whatever task may be at hand, you should be able to perform it with the utmost concentration and to the best of your abilities. It may often be that you are good at a certain task or you may have the ability to perform it...

Each one of you must have had this dilemma at least once in your lives. What time of the day is the best one to study? And if you have had this dilemma, then you most certainly would have had debates on it. Whether with your friends, your teachers or your parents. In this article, we try to clear up some ideas behind what studying time is the best for a student and what the benefits are. The time...

At the forefront of the board examinations for the core subjects, the cbse or central board of education had unconfined a review for the students against the fake news on the major social Medias. CBSE's letter is a preventative endeavor to keep away from the circumstances was faced by the board in the last year throughout the board exams when gossip of leaking of question paper endlessly plagued...

The Central Board of Secondary Education (CBSE) has come up with certain rules regarding the dress code of candidates appearing for the board examinations. The candidates have been specified what they should wear while coming for their examination as follows: The regular school students are required to come for the exam in their regular school uniform only. The private students are allowed to...

The Central Board of Secondary Education (CBSE) conducts the board exam for class 12th every year. Students belonging to the Humanities category face a lot of problems to prepare for Economics. As you know Economics is one of the important subjects for the students who belong to the Humanities category. According to Studies Today, students shouldn't start multiple sections at a time. They shouldn...