CBSE, Class III Mathematics
Download Class 3 Mathematics Worksheets with important questions and answers, assignments, NCERT Solutions, Sample Papers and Question Papers with solutions, latest syllabus, online tests and many other useful study material prepared based on latest guidelines, term examination pattern and blueprint issued by CBSE and NCERT. Also see Drawing for Class 3.
Click below for Class 3 Mathematics worksheets and assignments, latest syllabus, NCERT CBSE books, NCERT solutions, hots, multiple choice questions (mcqs), easy to learn concepts and study notes of all class 3 Mathematics chapters, online tests, Sample papers and last year solved Question papers. Also checkout class 3 hindi worksheets.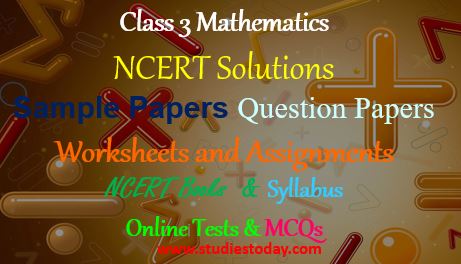 Latest CBSE News
The committee has decided to reduce the deduction of marks from five to only two per cent for the change of stream. This is a big relief for the students who wish to change their stream due to any reason whatsoever. According to the latest updates, Delhi University is taking some steps regarding the admission process. The Delhi University (DU) is consulting the Central Board of Secondary...

Nowadays children are very busy with their day to day study. They are very much busy that they even don't have time for themselves. Burden and competition in education is growing day by day and due to this students are not able to enjoy their life. It is very important for every student to indulge in some other extracurricular or after school programs so that they can spend some time exploring...

As per the norms, the Central Board of Secondary Education (CBSE) has been announced strict rules regarding the change of school for reasons like better education, etc. On 5th April 2019, CBSE has made a list of documents that parents, as well as students, will have to give for direct admissions in Class X and XII. The following are the documents required to take admissions in Class X and XII are...

The latest CBSE exam pattern 2019-2020 has been announced in the First week of March 2019. The new educational programme and pattern will be available in April 2019. As per the new exam pattern, CBSE has given more weight to school-based assessment and objective type questions. Internal Assessments in All Subjects: Unfortunately, the internal assessment wasn't available in all the subjects like...

The Central Board of Secondary Education (CBSE) is likely to declare the result by May third week for class 10th and 12th. CBSE is ready for further processes. The Central Board of Secondary Education (CBSE) has been announced the Re-verification and Re-evaluation schedule on April 11, 2019. All those students who have doubts or not happy with the correction of papers can fill the Re-verification...

Since last year, CBSE has made the class 10th board exams mandatory for all the schools affiliated to CBSE. Well, all the questions come in the board exam are based on the concepts and topics mentioned in the class 10th science NCERT books. For doing well in the board exams students have to prepare from the NCERT book as well as students can also refer other books to study the topics given in the...

There are some chapters in Social Science for class 10 which CBSE has decided to drop them. CBSE has taken this decision so keep in mind that these chapters are irrelevant and in future will not be included in exams. Therefore, CBSE has decided to drop five Social Science chapters from this academic session of class 10th syllabus including 'Challenges to Democracy' and 'Political Struggles and...