Download Class 3 Hindi NCERT Solutions, Worksheets with questions, Sample Papers and Question papers with solutions, latest syllabus and NCERT Books and other study material prepared based on latest guidelines, term examination pattern and blueprint issued by CBSE and NCERT. Also get class 3 Maths Book in PDF Format.
Click below for Class 3 Hindi Rimjhim Worksheets and assignments, updated syllabus, NCERT CBSE books, NCERT solutions, easy to learn concepts and study notes of all class 3 Hindi chapters, sample papers and last year solved question papers. Also download Drawing for 3rd class in PDF Format.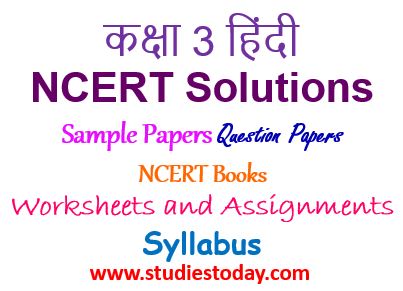 Latest CBSE News
Mathematics is the subject which is feared by most of the students. The problem becomes more critical now since the board exam is knocking the door. Usually students develop anxiety during mathematics exam. Usually mathematics is well thought-out as a subject of calculation actually involves logic, reasoning and imagination, moreover it also involves loads of stuffs related to calculations. This...

Mr. TS Grewal can rightly be called the saviour for all students of commerce today. He was an eminent personality when it comes to subjects of Commerce and Management. He was not just an educationist but also a humanist who greatly inspired all those who were in touch with him. He had certain values, principles and the way of life he followed serves as a guiding light for many of us today. He...

The board exams are not only stressful for the students but also for the parents. The parents don't only help the students in revision process. The parents are often at loss on the fact that how should they help their spouse before the boards. This specially occurs managing the stress before exams. Parents are often oblivious. It is a proven fact that stress hampers the student's productivity on...

There are just a few days left for the 12th and 10th Boards exams of CBSE to begin. Keeping this in mind, following are some tips, hacks, and advice from learned people and toppers about how you can study last minute to further enhance your performance. Your performance in the exams depends greatly on your effort throughout the year. Hard work is the key to success and since you surely would have...

You never realise what you have until its gone. A chocolate pastry is a good example, but here we mean the joys of your schooling years. While 18,27,472 of you who are taking the Xth Board exams will continue on your journey of discovery and exploration in school, for 12,87,359 of you who are taking the XIIth Board exams, there are higher institutions of learning awaiting your knock on their...

How many times have we heard our parents lecture us on the importance of having a set schedule? How many times have they told us about fixing a timetable and setting a routine to complete all our studies on time? You might have lost count I'm sure. But let's stop for a minute and think. Why are they constantly nagging us about these things? There surely must be a reason behind it. And yes there...

Your concentration level is something that is not only important as you conduct your daily studies and learning, but is also something that is required in day to day activities. Whatever task may be at hand, you should be able to perform it with the utmost concentration and to the best of your abilities. It may often be that you are good at a certain task or you may have the ability to perform it...