CBSE, Class III Moral Science
Download Class 3 Moral Science Worksheets and Assignments with important questions, latest Sample Papers and Question Papers with solutions and other study material prepared based on latest guidelines, term examination pattern and blueprint issued by CBSE and NCERT
Click below for Class 3 Moral Science worksheets, assignments, updated syllabus, easy to learn concepts and study notes of all class 3 moral science chapters, Sample papers and last year solved question papers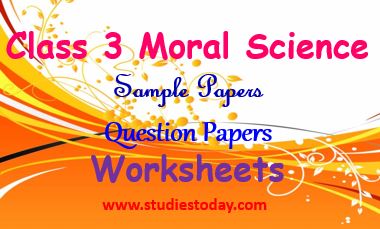 Latest CBSE News
The Central Board of Secondary Education (CBSE) conducts the board exam for class 12th every year. Students belonging to the Humanities category face a lot of problems to prepare for Economics. As you know Economics is one of the important subjects for the students who belong to the Humanities category. According to Studies Today, students shouldn't start multiple sections at a time. They shouldn...

How often have your parents lectured you on the importance of healthy eating habits? Quite a lot, we assume. Though it may sound like something a parent is bound to constantly lecture their children about, and though it may not seem important at all, it is super important and vital for you, especially as a student. Healthy eating habits don't just mean you need to eat green leafy vegetables and...

The Central Board of Secondary Education (CBSE) has been announced a list of all possible courses that students can continue after class 12. Also, CBSE has listed the names of the colleges, their eligibility criteria and other details related to that course. CBSE chairperson, Anita Karwal in an official statement said CBSE has made a concise list of elective courses that will help the students to...

In a highly patriotic and important move to highlight one of the greatest men of our nation, Atal Bihari Vajpayee, the National Council of Educational Research and Training has introduced one of the poems written by this great leader in the 8th standard textbook. Must download these NCERT solutions for class 8 Hindi for free. The NCERT has taken this move with an aim to instil respect for the...

Mathematics is the subject which is feared by most of the students. The problem becomes more critical now since the board exam is knocking the door. Usually students develop anxiety during mathematics exam. Usually mathematics is well thought-out as a subject of calculation actually involves logic, reasoning and imagination, moreover it also involves loads of stuffs related to calculations. This...

The central board of secondary education (CBSE) had started exams for 10th and 12th standards. The exams have started with the occupational subjects. The exams for the core subjects will start in few days time. The mathematics exam for class 10th is scheduled on 7th march. 18th March is scheduled date for the mathematics exam for class 12. Mathematics is a subject that is basically numerical...

The board exams are not only stressful for the students but also for the parents. The parents don't only help the students in revision process. The parents are often at loss on the fact that how should they help their spouse before the boards. This specially occurs managing the stress before exams. Parents are often oblivious. It is a proven fact that stress hampers the student's productivity on...