CBSE, Class III Social Science
Download Class 3 Social Science Sample Papers and Question Papers with solutions, Worksheets and assignments with important questions and answers. Also download other study material prepared based on latest guidelines, term examination pattern and blueprint issued by CBSE and NCERT. Get kendriya vidyalaya question papers class 3 in PDF Format.
Click below for Class 3 Social Science Worksheets, Assignments, latest syllabus, NCERT CBSE books, HOT, Multiple Choice Questions (mcqs), easy to learn concepts and study notes sample papers and last year solved question papers. Also Download NCERT class 3 study material for all subjects in PDF Format.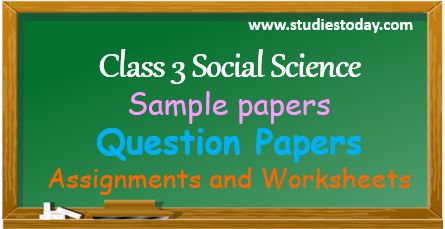 Latest CBSE News
When it comes to scoring good marks in the board exams, most of the students waste their time to choosing the right study material. Sometimes it may lead to failure because of the wrong study material. National Education, Research and Training Council (NCERT) have been responsible for distributing the textbooks to students and for their development. NCERT books are very helpful to understand the...

A computer has become very much important nowadays because it can perform tasks very easily, accurate and fast. Due to the increasing usage of computers, there are so many jobs available in enormous fields. If you are interested in working in fields of computers then these are the 3 main courses available for you i.e. BCA, B.TechComputer Science and B.Sc Computer Science. It may become confusing...

The Indian Board of Education is divided into two boards, CBSE and ICSE. According to the different features of the boards people choose to study in the board the prefer more. The Central Board of Secondary Education (CBSE) is a national level board of education conducted and run by the Union Government of India. It was formed 56 years ago on 3rd November 1962. It is for public and private...

If you're the one who opted for the medical stream because you liked studying biology. Unfortunately, you have been unable to clear the NEET exam and now worried about their future. Actually, most people think that career options for PCB end at medical. Today in this article we will be talking about some of the career options for PCB stream which students can pursue after class 12th. Here is the...

As soon as the Central Board of Secondary Education (CBSE) result dates coming closer, rumours are also on the peak of its level. All the suppositions are meaningless because the board officials confirmed the declaration date of class 10th and class 12th results. This year CBSE class 10th and class 12th exams have started in the month of February and ended in the Ist week of April. As per the...

Last month Delhi government announced that the students of government schools will not be charged any fees to the Central Bureau of Secondary Education (CBSE). Well, Delhi Education Minister Manish Sisodia said this while addressing students during a function at the Thyagraj Stadium in New Delhi. All the Delhi government schools are affiliated to the CBSE as a board of education. As the Sisodia...

We all know CBSE has conducted every year board exams for class 10. As soon as we land in class 10, everyone starts suggesting different things. They tell us to study hard because this is the first step towards your career. If you are willing to take science stream in class 11th and 12th, then it is very important to get good marks in class 10. So that you can easily take your stream. Check out...