CBSE, Class III Social Science
Download Class 3 Social Science Sample Papers and Question Papers with solutions, Worksheets and assignments with important questions and answers. Also download other study material prepared based on latest guidelines, term examination pattern and blueprint issued by CBSE and NCERT. Get kendriya vidyalaya question papers class 3 in PDF Format.
Click below for Class 3 Social Science Worksheets, Assignments, latest syllabus, NCERT CBSE books, HOT, Multiple Choice Questions (mcqs), easy to learn concepts and study notes sample papers and last year solved question papers. Also Download NCERT class 3 study material for all subjects in PDF Format.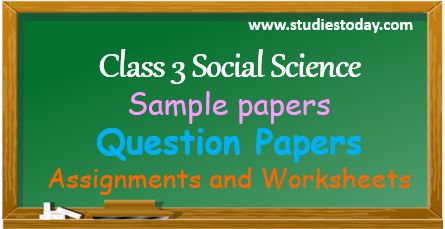 Latest CBSE News
The latest CBSE exam pattern 2019-2020 has been announced in the First week of March 2019. The new educational programme and pattern will be available in April 2019. As per the new exam pattern, CBSE has given more weight to school-based assessment and objective type questions. Internal Assessments in All Subjects: Unfortunately, the internal assessment wasn't available in all the subjects like...

As per the CBSE norms, CBSE has been introduced a new assessment and evaluation system for the next year coming board exams for Std XII. CBSE has done these changes in subjects like Maths, languages and political science. There are 2 major reasons behind these changes i.e. board's internal strategy for students growth and getting ready for the students to participate in the PISA (Programme for...

As you know that the latest CBSE pattern 2019-2020 already has been updated and announced in the 1st week of March 2019. As per the new curriculum, CBSE proposed the internal assessment and examination practices for upcoming academic session 2019-2020. This will help in upgrading the quality of the assessment process, said by city school principals and authorities. According to the new curriculum...

Nowadays children are very busy with their day to day study. They are very much busy that they even don't have time for themselves. Burden and competition in education is growing day by day and due to this students are not able to enjoy their life. It is very important for every student to indulge in some other extracurricular or after school programs so that they can spend some time exploring...

When students prepare for the final board exams, most of the students often waste their time in choosing the right books to study for their final examination. They become confused in choosing the right study material for themselves and ends up taking the wrong books for their preparation which may even lead to failure in their board exams. National Council of Education, Research and training (...

Last month the CBSE board exam has come to an end. This time there are no issues of any paper leakage found. Last year Central Board of Secondary Education (CBSE) had suffered a problem of paper leakage. Due to this, the Economics exam for class 12 was held again. Because of that last year incident happened, CBSE took multiple steps and actions towards the safety of question papers. CBSE...

Exam times are one of the most hectic and nerve-racking periods in the student's life ever. This pressure will more increase if the board exams are going on. During the exam times students don't eat, sleep properly in the burden to perform well in the board exams. But they always forget that the brain also requires a lot of energy as a portion of food, rest i.e. good nutrition to work well.  To...