Class 2 has subjects Moral Science, Social Science, Environmental Studies, Languages, Computer, Drawing, English, General Knowledge, Hindi, Mathematics, access the links below for CBSE and NCERT study material prepared based on latest guidelines, term examination pattern and blueprints issued by CBSE and NCERT
Click below for Class 2 subject wise worksheets, assignments, latest syllabus, NCERT CBSE books, NCERT solutions, hots, multiple choice questions (mcqs), easy to learn concepts, chapter wise study notes, online tests, value based questions (vbqs), test papers, sample papers and last year solved question papers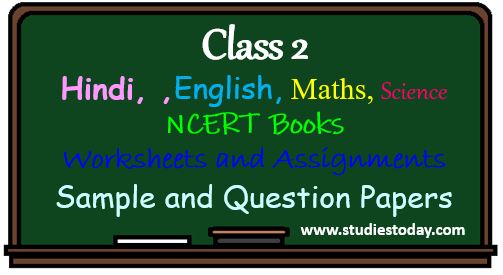 Latest CBSE News
Last month the CBSE board exam has come to an end. This time there are no issues of any paper leakage found. Last year Central Board of Secondary Education (CBSE) had suffered a problem of paper leakage. Due to this, the Economics exam for class 12 was held again. Because of that last year incident happened, CBSE took multiple steps and actions towards the safety of question papers. CBSE...

All the CBSE students who are appearing for their board exams this year can breathe a sigh of relief. The Central Board of Secondary Education has decided to increase the number of questions given to the students with more internal choices. So now you don't have to worry about whether or not you will be able to solve all the questions. More choices within each question means that you can focus on...

How often have your parents lectured you on the importance of healthy eating habits? Quite a lot, we assume. Though it may sound like something a parent is bound to constantly lecture their children about, and though it may not seem important at all, it is super important and vital for you, especially as a student. Healthy eating habits don't just mean you need to eat green leafy vegetables and...

There are just a few days left for the 12th and 10th Boards exams of CBSE to begin. Keeping this in mind, following are some tips, hacks, and advice from learned people and toppers about how you can study last minute to further enhance your performance. Your performance in the exams depends greatly on your effort throughout the year. Hard work is the key to success and since you surely would have...

Unseen passages, also known as comprehensions are not just questions that are asked in your school English paper but are even important for your competitive exams later in life. It may seem the easiest thing when you attempt those questions in the English examination as the answers are straightaway copied out of the paragraph, but for your exams at a later stage, the questions would not be that...

The last date of online registration for admissions in Kendriya Vidyalayas was March 19, 2019. The official portal is launched by KV Sangathan functioning under the Union ministry for human resources development (MHRD) on 1st of March 2019. Interested candidates can also submit an online application form through our portal. The vacant seats will declared again on 26th March 2019 and students can...

Since the board exams for both class 10 and class 12 has started, the CBSE board has instructed the parents and the students to follow some guidelines to sensify against the forged news spread through the social media platforms. The parents and the students are directed to stick on their principles stated by the CBSE Board on their official website i.e. "www.cbse.nic.in.com". All the devices such...