NCERT has prescribed book Ibtedai for class 2. The book has 20 Chapters. Access the below links to download study material for class 2 Urdu which has been designed as per the NCERT and CBSE syllabus
Refer to links below to download NCERT books and solutions. Also get free sample papers, question papers and worksheets for class 2 Urdu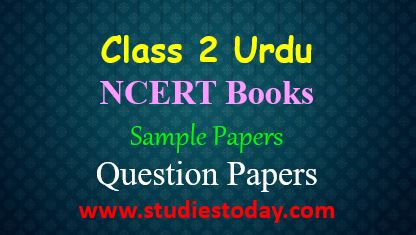 Latest CBSE News
As per the latest updates, the Delhi University has made certain changes in their curricular system. Earlier, Delhi University had announced the registration date was 15th April 2019. Now the news coming from the DU is Delhi University postponed the admission process for both under-graduation and post-graduation courses. Now the registration process is likely to begin on the first May 2019....

CBSE Class 10, 12 Results 2019: After so many predictions, rumours about the CBSE class 10th and class 12th results, finally the date is out now and the dates are also confirmed by the CBSE officials. According to the CBSE officials, the result will be declared by after the May 1st week i.e. between May 8, 2019, and May 15, 2019. Download CBSE class 10 Physics electricity notes prepared by expert...

Since last year, CBSE has made the class 10th board exams mandatory for all the schools affiliated to CBSE. Well, all the questions come in the board exam are based on the concepts and topics mentioned in the class 10th science NCERT books. For doing well in the board exams students have to prepare from the NCERT book as well as students can also refer other books to study the topics given in the...

There are some chapters in Social Science for class 10 which CBSE has decided to drop them. CBSE has taken this decision so keep in mind that these chapters are irrelevant and in future will not be included in exams. Therefore, CBSE has decided to drop five Social Science chapters from this academic session of class 10th syllabus including 'Challenges to Democracy' and 'Political Struggles and...

So if you are one of the students who has just given their 10th class exam and confused about what to pursue next in your life then you have come to a right place. Today in this article we will be talking about some of the courses which students can pursue after their 10th class exam. Mostly students get confused after their 10th on what to choose and what to leave. Many students just take...

The Central Board of Secondary Education (CBSE) conducts the board exam for class 12th every year. Students belonging to the Humanities category face a lot of problems to prepare for Economics. As you know Economics is one of the important subjects for the students who belong to the Humanities category. According to Studies Today, students shouldn't start multiple sections at a time. They shouldn...

The Central Board of Secondary Education (CBSE) is likely to declare the result by May third week for class 10th and 12th. CBSE is ready for further processes. The Central Board of Secondary Education (CBSE) has been announced the Re-verification and Re-evaluation schedule on April 11, 2019. All those students who have doubts or not happy with the correction of papers can fill the Re-verification...