NCERT has prescribed book Ibtedai for class 2. The book has 20 Chapters. Access the below links to download study material for class 2 Urdu which has been designed as per the NCERT and CBSE syllabus
Refer to links below to download NCERT books and solutions. Also get free sample papers, question papers and worksheets for class 2 Urdu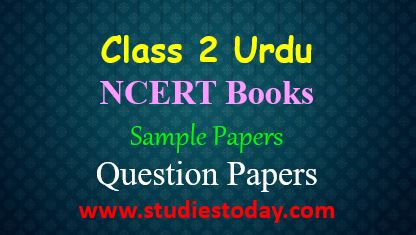 Latest CBSE News
Mr. TS Grewal can rightly be called the saviour for all students of commerce today. He was an eminent personality when it comes to subjects of Commerce and Management. He was not just an educationist but also a humanist who greatly inspired all those who were in touch with him. He had certain values, principles and the way of life he followed serves as a guiding light for many of us today. He...

The Central Board of Secondary Education has improved the introduction of arts in regular learning methodology for all subjects from class 1 to class 11. The step is being taken to incorporate suggestions from associates, proposed by National Curriculum Framework (NCF) that stated: "we must bring the arts precisely into the field of the curricular". All the details regarding the implementation,...

The Board examinations for Class 10th students studying the Central Board of Secondary Education (CBSE) will begin from the 7th of March 2019 for all core or main subjects. The exams for vocational subjects have already begun from the 21st February 2019. There are certain new mandatory rules that need to be kept in mind by the students before they appear for the examinations. These rules are...

The Central Board of Secondary Education (CBSE) has come up with certain rules regarding the dress code of candidates appearing for the board examinations. The candidates have been specified what they should wear while coming for their examination as follows: The regular school students are required to come for the exam in their regular school uniform only. The private students are allowed to...

Relying on the reference books will be completely pointless just before exams. The best medium of scoring good marks in the CBSE 10th boards exams is the NCERT books. This statement was given by a student Hrithika Meena, of St. Xavier's school of the Nevata area in Jaipur. Being a top scorer Hrithika advises all the students, instead of mugging up the students should understand the context and...

Last month the CBSE board exam has come to an end. This time there are no issues of any paper leakage found. Last year Central Board of Secondary Education (CBSE) had suffered a problem of paper leakage. Due to this, the Economics exam for class 12 was held again. Because of that last year incident happened, CBSE took multiple steps and actions towards the safety of question papers. CBSE...

Nowadays children are very busy with their day to day study. They are very much busy that they even don't have time for themselves. Burden and competition in education is growing day by day and due to this students are not able to enjoy their life. It is very important for every student to indulge in some other extracurricular or after school programs so that they can spend some time exploring...