Download Class 2 languages Punjabi, Urdu, Tamil, Malayalam access study material for languages Punjabi, urdu, tamil, Malayalam class 2 students and free download in pdf and practice to get better marks in examinations. all study material has been prepared based on latest guidelines, term examination pattern and blueprint issued by cbse and ncert
Click below for class 2 languages Punjabi, urdu, tamil, Malayalam worksheets, assignments, syllabus, sample papers and last year solved question papers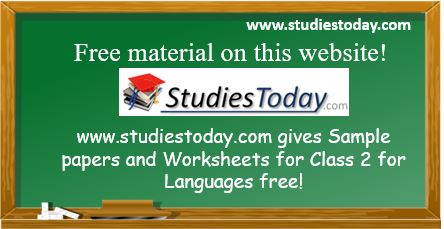 Latest CBSE News
There are just a few days left for the 12th and 10th Boards exams of CBSE to begin. Keeping this in mind, following are some tips, hacks, and advice from learned people and toppers about how you can study last minute to further enhance your performance. Your performance in the exams depends greatly on your effort throughout the year. Hard work is the key to success and since you surely would have...

How many times have we heard our parents lecture us on the importance of having a set schedule? How many times have they told us about fixing a timetable and setting a routine to complete all our studies on time? You might have lost count I'm sure. But let's stop for a minute and think. Why are they constantly nagging us about these things? There surely must be a reason behind it. And yes there...

A Few days ago, Central Board of Secondary Education (CBSE) launched its podcast application for all the stakeholders. As per the norms, the evaluation process for the on-going CBSE board exams 2019 has also been started. Now you can see the guidelines for the evaluation process on the podcast app of the board named CBSE Shiksha Vani. You can also download this app from Google Play Store. The...

The board exams are not only stressful for the students but also for the parents. The parents don't only help the students in revision process. The parents are often at loss on the fact that how should they help their spouse before the boards. This specially occurs managing the stress before exams. Parents are often oblivious. It is a proven fact that stress hampers the student's productivity on...

At the forefront of the board examinations for the core subjects, the cbse or central board of education had unconfined a review for the students against the fake news on the major social Medias. CBSE's letter is a preventative endeavor to keep away from the circumstances was faced by the board in the last year throughout the board exams when gossip of leaking of question paper endlessly plagued...

NCERT i.e. National Council of Education Research and Training syllabus would be brought in the fresh academic year of class X and class XII in the Urdu and Hindi medium schools of Gujarat. This is a big and very welcoming step by the Gujarat State Board of Education. Download Urdu notes for class 10 Revealing those, on Saturday the officials told that the board has declared the welcoming of...

Students are constantly told about how they should finish their syllabus in time and then get down to practicing last years question papers for each subject. But have you ever thought why it is so? There is quite a simple logic behind practicing these papers, 'the past will help you prepare better for the future.' Most schools and boards always refer to previous years question papers when setting...