Download Class 2 languages Punjabi, Urdu, Tamil, Malayalam access study material for languages Punjabi, urdu, tamil, Malayalam class 2 students and free download in pdf and practice to get better marks in examinations. all study material has been prepared based on latest guidelines, term examination pattern and blueprint issued by cbse and ncert
Click below for class 2 languages Punjabi, urdu, tamil, Malayalam worksheets, assignments, syllabus, sample papers and last year solved question papers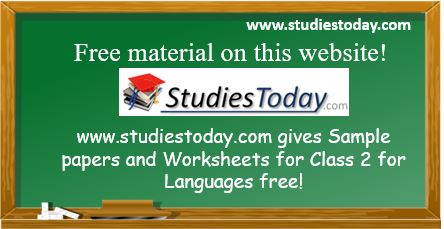 Latest CBSE News
Since last year, CBSE has made the class 10th board exams mandatory for all the schools affiliated to CBSE. Well, all the questions come in the board exam are based on the concepts and topics mentioned in the class 10th science NCERT books. For doing well in the board exams students have to prepare from the NCERT book as well as students can also refer other books to study the topics given in the...

This year board has introduced the new passing criteria for CBSE class 10 students. As per the norms, the board has decided to change the passing criteria for the CBSE class 10 students. According to the latest updates by the Central Board of Secondary Education (CBSE) i.e. the board has decided to give relaxation to the students. Here is the good news for the CBSE class 10 students. All the...

Computers and software have become present everywhere. From booking a railway ticket to watching an IPL match on a smartphone, it is all down to coding and software. It is not surprising that the computer and software industry will provide the bulk of jobs in the coming years. Currently, India has 5.2 million employees who develop software, and the number will increase exponentially in the coming...

Nowadays children are very busy with their day to day study. They are very much busy that they even don't have time for themselves. Burden and competition in education is growing day by day and due to this students are not able to enjoy their life. It is very important for every student to indulge in some other extracurricular or after school programs so that they can spend some time exploring...

The Central Board of Secondary Education (CBSE) has been announced a list of all possible courses that students can continue after class 12. Also, CBSE has listed the names of the colleges, their eligibility criteria and other details related to that course. CBSE chairperson, Anita Karwal in an official statement said CBSE has made a concise list of elective courses that will help the students to...

As per the new rules and regulations of the High Court, all private schools are not bound to enhance their fee structure without the prior permission of the Fee Fixation Committee (FFC). Besides that directorate advised private schools to follow the prescribed curriculum. Directorate of School Education, Jammu has made certain changes regarding the buying of books, uniforms of private schools of...

The Central Board of Secondary Education (CBSE) is likely to declare the result by May third week for class 10th and 12th. CBSE is ready for further processes. The Central Board of Secondary Education (CBSE) has been announced the Re-verification and Re-evaluation schedule on April 11, 2019. All those students who have doubts or not happy with the correction of papers can fill the Re-verification...