CBSE, Class II Moral Science
Download Class 2 Moral Science Assignments and worksheets, sample papers and question papers and useful study material available for free download in pdf prepared based on latest guidelines, term examination pattern and blueprint issued by CBSE and NCERT
Click below for Class 2 Moral Science worksheets, assignments, latest syllabus, NCERT CBSE books, easy to learn concepts and study notes Sample papers and last year solved question papers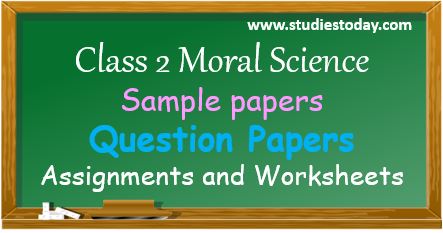 Latest CBSE News
Unseen passages, also known as comprehensions are not just questions that are asked in your school English paper but are even important for your competitive exams later in life. It may seem the easiest thing when you attempt those questions in the English examination as the answers are straightaway copied out of the paragraph, but for your exams at a later stage, the questions would not be that...

Each one of you must have had this dilemma at least once in your lives. What time of the day is the best one to study? And if you have had this dilemma, then you most certainly would have had debates on it. Whether with your friends, your teachers or your parents. In this article, we try to clear up some ideas behind what studying time is the best for a student and what the benefits are. The time...

How often have your parents lectured you on the importance of healthy eating habits? Quite a lot, we assume. Though it may sound like something a parent is bound to constantly lecture their children about, and though it may not seem important at all, it is super important and vital for you, especially as a student. Healthy eating habits don't just mean you need to eat green leafy vegetables and...

Students are constantly told about how they should finish their syllabus in time and then get down to practicing last years question papers for each subject. But have you ever thought why it is so? There is quite a simple logic behind practicing these papers, 'the past will help you prepare better for the future.' Most schools and boards always refer to previous years question papers when setting...

Your concentration level is something that is not only important as you conduct your daily studies and learning, but is also something that is required in day to day activities. Whatever task may be at hand, you should be able to perform it with the utmost concentration and to the best of your abilities. It may often be that you are good at a certain task or you may have the ability to perform it...

The Board examinations for Class 10th students studying the Central Board of Secondary Education (CBSE) will begin from the 7th of March 2019 for all core or main subjects. The exams for vocational subjects have already begun from the 21st February 2019. There are certain new mandatory rules that need to be kept in mind by the students before they appear for the examinations. These rules are...

All of you must have heard the famous saying, 'We must learn about our past and learn from it.' This goes true not only for your History lessons when you must take inspiration from great leaders like Mahatma Gandhi or Rani Lakshmi Bai, but it also stands true for practicing sample papers before you sit for your own exams. These sample papers may not give you the exact questions that will come in...