CBSE, Class II Social Science
Download Class 2 Social Science access study material for social science class 2 students and free download in pdf and practice to get better marks in examinations. all study material has been prepared based on latest guidelines, term examination pattern and blueprint issued by cbse and ncert
click on tabs below for class 2 social science worksheets, assignments, syllabus, ncert cbse books, ncert solutions, hots, multiple choice questions (mcqs), easy to learn concepts and study notes of all class 2 social science chapters, online tests, value based questions (vbqs), sample papers and last year solved question papers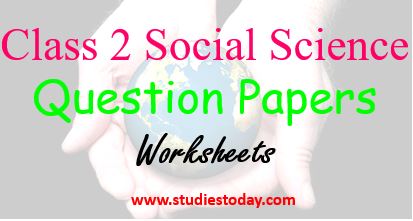 Latest CBSE News
Exam times are one of the most hectic and nerve-racking periods in the student's life ever. This pressure will more increase if the board exams are going on. During the exam times students don't eat, sleep properly in the burden to perform well in the board exams. But they always forget that the brain also requires a lot of energy as a portion of food, rest i.e. good nutrition to work well.  To...

A Few days ago, Central Board of Secondary Education (CBSE) launched its podcast application for all the stakeholders. As per the norms, the evaluation process for the on-going CBSE board exams 2019 has also been started. Now you can see the guidelines for the evaluation process on the podcast app of the board named CBSE Shiksha Vani. You can also download this app from Google Play Store. The...

Since last year, CBSE has made the class 10th board exams mandatory for all the schools affiliated to CBSE. Well, all the questions come in the board exam are based on the concepts and topics mentioned in the class 10th science NCERT books. For doing well in the board exams students have to prepare from the NCERT book as well as students can also refer other books to study the topics given in the...

Since the board exams for both class 10 and class 12 has started, the CBSE board has instructed the parents and the students to follow some guidelines to sensify against the forged news spread through the social media platforms. The parents and the students are directed to stick on their principles stated by the CBSE Board on their official website i.e. "www.cbse.nic.in.com". All the devices such...

NCERT i.e. National Council of Education Research and Training syllabus would be brought in the fresh academic year of class X and class XII in the Urdu and Hindi medium schools of Gujarat. This is a big and very welcoming step by the Gujarat State Board of Education. Download Urdu notes for class 10 Revealing those, on Saturday the officials told that the board has declared the welcoming of...

Mathematics is the subject which is feared by most of the students. The problem becomes more critical now since the board exam is knocking the door. Usually students develop anxiety during mathematics exam. Usually mathematics is well thought-out as a subject of calculation actually involves logic, reasoning and imagination, moreover it also involves loads of stuffs related to calculations. This...

Nowadays children are very busy with their day to day study. They are very much busy that they even don't have time for themselves. Burden and competition in education is growing day by day and due to this students are not able to enjoy their life. It is very important for every student to indulge in some other extracurricular or after school programs so that they can spend some time exploring...