CBSE, Class II General Knowledge
Download Class 2 General Knowledge worksheets, Sample Papers and Question Papers and useful study material prepared based on latest guidelines, term examination pattern and blueprint issued by CBSE and NCERT
Click below for Class 2 General Knowledge worksheets, assignments, syllabus, multiple choice questions (mcqs), easy to learn concepts and study notes, sample papers and last year solved question papers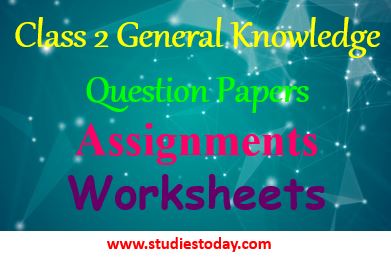 Latest CBSE News
As per the CBSE norms, CBSE has been introduced a new assessment and evaluation system for the next year coming board exams for Std XII. CBSE has done these changes in subjects like Maths, languages and political science. There are 2 major reasons behind these changes i.e. board's internal strategy for students growth and getting ready for the students to participate in the PISA (Programme for...

Exam times are one of the most hectic and nerve-racking periods in the student's life ever. This pressure will more increase if the board exams are going on. During the exam times students don't eat, sleep properly in the burden to perform well in the board exams. But they always forget that the brain also requires a lot of energy as a portion of food, rest i.e. good nutrition to work well.  To...

NCERT i.e. National Council of Education Research and Training syllabus would be brought in the fresh academic year of class X and class XII in the Urdu and Hindi medium schools of Gujarat. This is a big and very welcoming step by the Gujarat State Board of Education. Download Urdu notes for class 10 Revealing those, on Saturday the officials told that the board has declared the welcoming of...

CBSE Class 10, 12 Results 2019: After so many predictions, rumours about the CBSE class 10th and class 12th results, finally the date is out now and the dates are also confirmed by the CBSE officials. According to the CBSE officials, the result will be declared by after the May 1st week i.e. between May 8, 2019, and May 15, 2019. Download CBSE class 10 Physics electricity notes prepared by expert...

The latest CBSE exam pattern 2019-2020 has been announced in the First week of March 2019. The new educational programme and pattern will be available in April 2019. As per the new exam pattern, CBSE has given more weight to school-based assessment and objective type questions. Internal Assessments in All Subjects: Unfortunately, the internal assessment wasn't available in all the subjects like...

As per the new rules and regulations of the High Court, all private schools are not bound to enhance their fee structure without the prior permission of the Fee Fixation Committee (FFC). Besides that directorate advised private schools to follow the prescribed curriculum. Directorate of School Education, Jammu has made certain changes regarding the buying of books, uniforms of private schools of...

Since the board exams for both class 10 and class 12 has started, the CBSE board has instructed the parents and the students to follow some guidelines to sensify against the forged news spread through the social media platforms. The parents and the students are directed to stick on their principles stated by the CBSE Board on their official website i.e. "www.cbse.nic.in.com". All the devices such...