CBSE, Class II General Knowledge
Download Class 2 General Knowledge worksheets, Sample Papers and Question Papers and useful study material prepared based on latest guidelines, term examination pattern and blueprint issued by CBSE and NCERT
Click below for Class 2 General Knowledge worksheets, assignments, syllabus, multiple choice questions (mcqs), easy to learn concepts and study notes, sample papers and last year solved question papers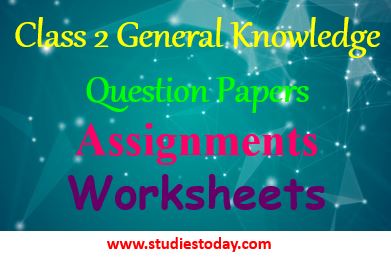 Latest CBSE News
Students are constantly told about how they should finish their syllabus in time and then get down to practicing last years question papers for each subject. But have you ever thought why it is so? There is quite a simple logic behind practicing these papers, 'the past will help you prepare better for the future.' Most schools and boards always refer to previous years question papers when setting...

CBSE or Central Board of Secondary Examination had declared the mathematics examination for the 10th standard. Usually, it is a one of the core subjects to most of the students. Since; nowadays in any kind of stream mathematics is required in the longer run. It is a very crucial subject for most of the students.  Mathematics offers an inimitable challenge to all the students – irrespective of...

Mathematics is the subject which is feared by most of the students. The problem becomes more critical now since the board exam is knocking the door. Usually students develop anxiety during mathematics exam. Usually mathematics is well thought-out as a subject of calculation actually involves logic, reasoning and imagination, moreover it also involves loads of stuffs related to calculations. This...

All the CBSE students who are appearing for their board exams this year can breathe a sigh of relief. The Central Board of Secondary Education has decided to increase the number of questions given to the students with more internal choices. So now you don't have to worry about whether or not you will be able to solve all the questions. More choices within each question means that you can focus on...

The Central Board of Secondary Education (CBSE) has come up with certain rules regarding the dress code of candidates appearing for the board examinations. The candidates have been specified what they should wear while coming for their examination as follows: The regular school students are required to come for the exam in their regular school uniform only. The private students are allowed to...

Mr. TS Grewal can rightly be called the saviour for all students of commerce today. He was an eminent personality when it comes to subjects of Commerce and Management. He was not just an educationist but also a humanist who greatly inspired all those who were in touch with him. He had certain values, principles and the way of life he followed serves as a guiding light for many of us today. He...

Each one of you must have had this dilemma at least once in your lives. What time of the day is the best one to study? And if you have had this dilemma, then you most certainly would have had debates on it. Whether with your friends, your teachers or your parents. In this article, we try to clear up some ideas behind what studying time is the best for a student and what the benefits are. The time...