Download Class 3 Science Sample Papers and Question Papers with Solutions, also get free worksheets with important questions and answers and other study material prepared based on latest guidelines, term examination pattern and blueprint issued by CBSE and NCERT. Also download Maths Text Book in PDF Format.
Click below for Class 3 Science worksheets, assignments, updated syllabus, Multiple choice questions (mcqs), easy to learn concepts and study notes Sample papers and last year solved question papers. Also download environmental studies notes in Hindi - free PDF Available.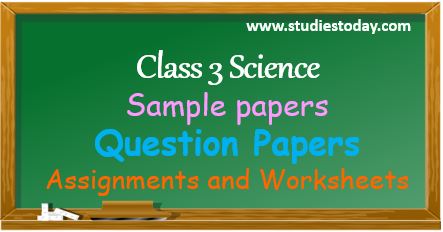 Latest CBSE News
Nowadays children are very busy with their day to day study. They are very much busy that they even don't have time for themselves. Burden and competition in education is growing day by day and due to this students are not able to enjoy their life. It is very important for every student to indulge in some other extracurricular or after school programs so that they can spend some time exploring...

The Central Board of Secondary Education (CBSE) has been announced a list of all possible courses that students can continue after class 12. Also, CBSE has listed the names of the colleges, their eligibility criteria and other details related to that course. CBSE chairperson, Anita Karwal in an official statement said CBSE has made a concise list of elective courses that will help the students to...

Last month the CBSE board exam has come to an end. This time there are no issues of any paper leakage found. Last year Central Board of Secondary Education (CBSE) had suffered a problem of paper leakage. Due to this, the Economics exam for class 12 was held again. Because of that last year incident happened, CBSE took multiple steps and actions towards the safety of question papers. CBSE...

Since last year, CBSE has made the class 10th board exams mandatory for all the schools affiliated to CBSE. Well, all the questions come in the board exam are based on the concepts and topics mentioned in the class 10th science NCERT books. For doing well in the board exams students have to prepare from the NCERT book as well as students can also refer other books to study the topics given in the...

A Few days ago, Central Board of Secondary Education (CBSE) launched its podcast application for all the stakeholders. As per the norms, the evaluation process for the on-going CBSE board exams 2019 has also been started. Now you can see the guidelines for the evaluation process on the podcast app of the board named CBSE Shiksha Vani. You can also download this app from Google Play Store. The...

There are some chapters in Social Science for class 10 which CBSE has decided to drop them. CBSE has taken this decision so keep in mind that these chapters are irrelevant and in future will not be included in exams. Therefore, CBSE has decided to drop five Social Science chapters from this academic session of class 10th syllabus including 'Challenges to Democracy' and 'Political Struggles and...

The last date of online registration for admissions in Kendriya Vidyalayas was March 19, 2019. The official portal is launched by KV Sangathan functioning under the Union ministry for human resources development (MHRD) on 1st of March 2019. Interested candidates can also submit an online application form through our portal. The vacant seats will declared again on 26th March 2019 and students can...