Download Class 4 English NCERT Solutions, worksheets with important questions and answers, sample papers and question Papers with solutions, unseen passages and Class 4 CBSE books. Also access free study material for class 4 English prepared based on latest guidelines, term examination pattern and blueprint issued by CBSE and NCERT.
Click below for Class 4 English Marigold worksheets and assignments with questions, latest syllabus, NCERT books, NCERT solutions, HOTs, Multiple Choice Questions (MCQs), easy to learn concepts and study notes of all Marigold chapters, online tests, value based questions (vbqs), sample papers and last year solved question papers. Also Download class 4 math Solutions in PDF Form.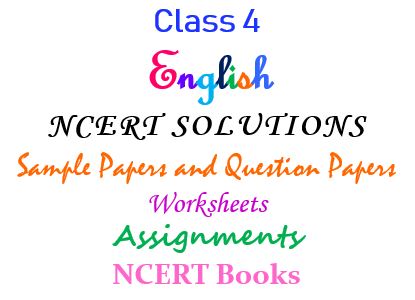 Latest CBSE News
Many a times students face the most important hurdle in their lives, how to memorize faster? More often than not, you may feel that you have finished reading and revising a certain chapter but when you look back at it, it seems like nothing ever went in to your head. You are unable to produce the answers of even simple questions. This does not mean that there is a problem with you. It simply...

So if you are one of the students who has just given their 10th class exam and confused about what to pursue next in your life then you have come to a right place. Today in this article we will be talking about some of the courses which students can pursue after their 10th class exam. Mostly students get confused after their 10th on what to choose and what to leave. Many students just take...

There are just a few days left for the 12th and 10th Boards exams of CBSE to begin. Keeping this in mind, following are some tips, hacks, and advice from learned people and toppers about how you can study last minute to further enhance your performance. Your performance in the exams depends greatly on your effort throughout the year. Hard work is the key to success and since you surely would have...

All of you must have heard the famous saying, 'We must learn about our past and learn from it.' This goes true not only for your History lessons when you must take inspiration from great leaders like Mahatma Gandhi or Rani Lakshmi Bai, but it also stands true for practicing sample papers before you sit for your own exams. These sample papers may not give you the exact questions that will come in...

Since the board exams for both class 10 and class 12 has started, the CBSE board has instructed the parents and the students to follow some guidelines to sensify against the forged news spread through the social media platforms. The parents and the students are directed to stick on their principles stated by the CBSE Board on their official website i.e. "www.cbse.nic.in.com". All the devices such...

The Central Board of Secondary Education (CBSE) has been announced a list of all possible courses that students can continue after class 12. Also, CBSE has listed the names of the colleges, their eligibility criteria and other details related to that course. CBSE chairperson, Anita Karwal in an official statement said CBSE has made a concise list of elective courses that will help the students to...

The latest CBSE exam pattern 2019-2020 has been announced in the First week of March 2019. The new educational programme and pattern will be available in April 2019. As per the new exam pattern, CBSE has given more weight to school-based assessment and objective type questions. Internal Assessments in All Subjects: Unfortunately, the internal assessment wasn't available in all the subjects like...