CBSE, Class VII Mathematics
Download Class 7 Mathematics NCERT Solutions, Sample Papers and Question Papers with solutions, RS Aggarwal Solutions, guides and chapter notes for all chapters. Students can download all study material in pdf free and practice to get better marks in examinations. All material has been prepared based on latest guidelines, term examination pattern and blueprint issued by CBSE and NCERT
Click below for Class 7 Mathematics worksheets with important questions, latest syllabus, NCERT CBSE books, ncert solutions, hots, multiple choice questions (mcqs), formulas, concept maps, mind map, equations, easy to learn concepts and study notes of all class 7 mathematics chapters, online tests, sample papers and last year solved question papers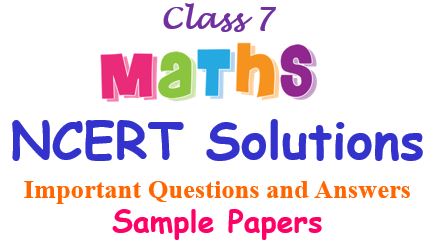 Latest CBSE News
So if you are one of the students who has just given their 10th class exam and confused about what to pursue next in your life then you have come to a right place. Today in this article we will be talking about some of the courses which students can pursue after their 10th class exam. Mostly students get confused after their 10th on what to choose and what to leave. Many students just take...

The committee has decided to reduce the deduction of marks from five to only two per cent for the change of stream. This is a big relief for the students who wish to change their stream due to any reason whatsoever. According to the latest updates, Delhi University is taking some steps regarding the admission process. The Delhi University (DU) is consulting the Central Board of Secondary...

Exam times are one of the most hectic and nerve-racking periods in the student's life ever. This pressure will more increase if the board exams are going on. During the exam times students don't eat, sleep properly in the burden to perform well in the board exams. But they always forget that the brain also requires a lot of energy as a portion of food, rest i.e. good nutrition to work well.  To...

As per the new rules and regulations of the High Court, all private schools are not bound to enhance their fee structure without the prior permission of the Fee Fixation Committee (FFC). Besides that directorate advised private schools to follow the prescribed curriculum. Directorate of School Education, Jammu has made certain changes regarding the buying of books, uniforms of private schools of...

CBSE has approved the introduction of Artificial Intelligence, early childhood care education, and yoga as new subjects in the upcoming session of April 2019. According to the new curriculum CBSE also introducing a few new subjects for the upcoming session starting from April 2019 like Artificial Intelligence, early childhood care education, and yoga. Out of those students have to choose optional...

The Central Board of Secondary Education (CBSE) has been announced a list of all possible courses that students can continue after class 12. Also, CBSE has listed the names of the colleges, their eligibility criteria and other details related to that course. CBSE chairperson, Anita Karwal in an official statement said CBSE has made a concise list of elective courses that will help the students to...

The last date of online registration for admissions in Kendriya Vidyalayas was March 19, 2019. The official portal is launched by KV Sangathan functioning under the Union ministry for human resources development (MHRD) on 1st of March 2019. Interested candidates can also submit an online application form through our portal. The vacant seats will declared again on 26th March 2019 and students can...