CBSE, Class IV Mathematics
Download Class 4 Mathematics NCERT Solutions, Worksheets, Question Papers and Sample Papers with solutions, latest NCERT Books, and syllabus. All study material has been prepared based on latest guidelines, term examination pattern and blueprint issued by CBSE and NCERT. Also get social science quiz for class 4 questions in PDF Form.
Click below for Class 4 Mathematics NCERT Solutions, worksheets with important questions and answers, updated syllabus, NCERT CBSE books, HOTs, Multiple Choice Questions (MCQs), easy to learn concepts and study notes of all Class 4 Mathematics chapters, online tests, value based questions (vbqs), sample papers and last year solved question papers. Other then Mathematics , 4th standard Science Syllabus is also available in PDF Form.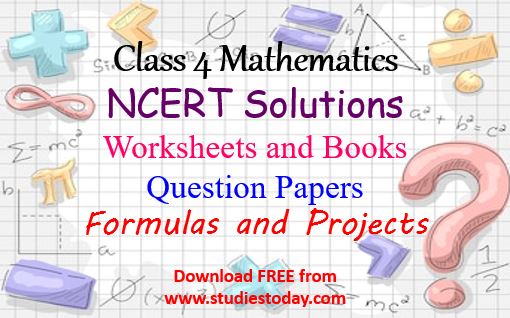 Latest CBSE News
Mobile phones, laptops, iPods, tablets, you name a gadget and it is available for use in today's technologically advanced era. Technology and these gadgets have become quite an integral part of our lives so to say. Every day a new gadget is being introduced and humans are getting more and more dependent on technology for their day to day needs. There is probably not a single activity left in the...

All the CBSE students who are appearing for their board exams this year can breathe a sigh of relief. The Central Board of Secondary Education has decided to increase the number of questions given to the students with more internal choices. So now you don't have to worry about whether or not you will be able to solve all the questions. More choices within each question means that you can focus on...

NCERT i.e. National Council of Education Research and Training syllabus would be brought in the fresh academic year of class X and class XII in the Urdu and Hindi medium schools of Gujarat. This is a big and very welcoming step by the Gujarat State Board of Education. Download Urdu notes for class 10 Revealing those, on Saturday the officials told that the board has declared the welcoming of...

Relying on the reference books will be completely pointless just before exams. The best medium of scoring good marks in the CBSE 10th boards exams is the NCERT books. This statement was given by a student Hrithika Meena, of St. Xavier's school of the Nevata area in Jaipur. Being a top scorer Hrithika advises all the students, instead of mugging up the students should understand the context and...

The central board of secondary education (CBSE) had started exams for 10th and 12th standards. The exams have started with the occupational subjects. The exams for the core subjects will start in few days time. The mathematics exam for class 10th is scheduled on 7th march. 18th March is scheduled date for the mathematics exam for class 12. Mathematics is a subject that is basically numerical...

The Central Board of Secondary Education (CBSE) has come up with certain rules regarding the dress code of candidates appearing for the board examinations. The candidates have been specified what they should wear while coming for their examination as follows: The regular school students are required to come for the exam in their regular school uniform only. The private students are allowed to...

CBSE has approved the introduction of Artificial Intelligence, early childhood care education, and yoga as new subjects in the upcoming session of April 2019. According to the new curriculum CBSE also introducing a few new subjects for the upcoming session starting from April 2019 like Artificial Intelligence, early childhood care education, and yoga. Out of those students have to choose optional...