CBSE, Class X Social Science
Download Class 10 Social Science NCERT Solutions, chapter notes, important questions and answers from all chapters, latest sample papers for upcoming exams, access all study material for social science free in pdf prepared based on latest guidelines, term examination pattern and blueprint issued by CBSE and NCERT.
Click below for Class 10 Social Science worksheets with important questions, latest syllabus, ncert cbse books, ncert solutions, hots, multiple choice questions (mcqs), easy to learn concepts and study notes of all chapters, online tests, value based questions (vbqs), sample papers and last year solved question papers. Also Download Hindi Class 10 Study Material in PDF Form.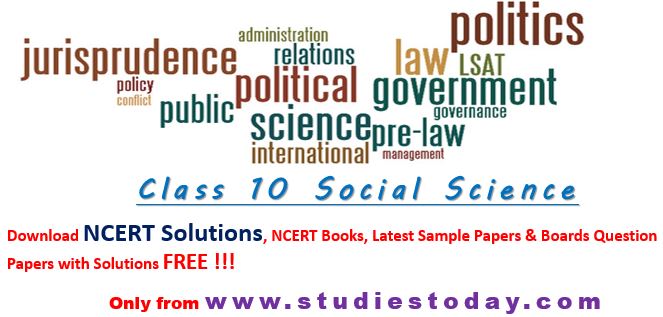 Latest CBSE News
So if you are one of the students who has just given their 10th class exam and confused about what to pursue next in your life then you have come to a right place. Today in this article we will be talking about some of the courses which students can pursue after their 10th class exam. Mostly students get confused after their 10th on what to choose and what to leave. Many students just take...

There are just a few days left for the 12th and 10th Boards exams of CBSE to begin. Keeping this in mind, following are some tips, hacks, and advice from learned people and toppers about how you can study last minute to further enhance your performance. Your performance in the exams depends greatly on your effort throughout the year. Hard work is the key to success and since you surely would have...

Students are constantly told about how they should finish their syllabus in time and then get down to practicing last years question papers for each subject. But have you ever thought why it is so? There is quite a simple logic behind practicing these papers, 'the past will help you prepare better for the future.' Most schools and boards always refer to previous years question papers when setting...

The Central Board of Secondary Education (CBSE) conducts the board exam for class 12th every year. Students belonging to the Humanities category face a lot of problems to prepare for Economics. As you know Economics is one of the important subjects for the students who belong to the Humanities category. According to Studies Today, students shouldn't start multiple sections at a time. They shouldn...

NCERT i.e. National Council of Education Research and Training syllabus would be brought in the fresh academic year of class X and class XII in the Urdu and Hindi medium schools of Gujarat. This is a big and very welcoming step by the Gujarat State Board of Education. Download Urdu notes for class 10 Revealing those, on Saturday the officials told that the board has declared the welcoming of...

Mr. TS Grewal can rightly be called the saviour for all students of commerce today. He was an eminent personality when it comes to subjects of Commerce and Management. He was not just an educationist but also a humanist who greatly inspired all those who were in touch with him. He had certain values, principles and the way of life he followed serves as a guiding light for many of us today. He...

The central board of secondary education (CBSE) had started exams for 10th and 12th standards. The exams have started with the occupational subjects. The exams for the core subjects will start in few days time. The mathematics exam for class 10th is scheduled on 7th march. 18th March is scheduled date for the mathematics exam for class 12. Mathematics is a subject that is basically numerical...