CBSE, Class I Mathematics
Download Class 1 Mathematics worksheets and assignments with important questions and answers, Sample Papers and Past year question papers with solutions and other study material available for free download in pdf. Prepared based on latest guidelines, term examination pattern and blueprint issued by CBSE and NCERT
Click below for Class 1 mathematics worksheets, assignments, latest syllabus, easy to learn concepts and study notes of all chapters, Sample papers and last year solved Question Papers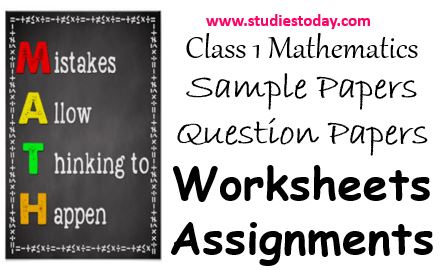 Latest CBSE News
Nowadays children are very busy with their day to day study. They are very much busy that they even don't have time for themselves. Burden and competition in education is growing day by day and due to this students are not able to enjoy their life. It is very important for every student to indulge in some other extracurricular or after school programs so that they can spend some time exploring...

The last date of online registration for admissions in Kendriya Vidyalayas was March 19, 2019. The official portal is launched by KV Sangathan functioning under the Union ministry for human resources development (MHRD) on 1st of March 2019. Interested candidates can also submit an online application form through our portal. The vacant seats will declared again on 26th March 2019 and students can...

How often have your parents lectured you on the importance of healthy eating habits? Quite a lot, we assume. Though it may sound like something a parent is bound to constantly lecture their children about, and though it may not seem important at all, it is super important and vital for you, especially as a student. Healthy eating habits don't just mean you need to eat green leafy vegetables and...

At the forefront of the board examinations for the core subjects, the cbse or central board of education had unconfined a review for the students against the fake news on the major social Medias. CBSE's letter is a preventative endeavor to keep away from the circumstances was faced by the board in the last year throughout the board exams when gossip of leaking of question paper endlessly plagued...

Relying on the reference books will be completely pointless just before exams. The best medium of scoring good marks in the CBSE 10th boards exams is the NCERT books. This statement was given by a student Hrithika Meena, of St. Xavier's school of the Nevata area in Jaipur. Being a top scorer Hrithika advises all the students, instead of mugging up the students should understand the context and...

CBSE has approved the introduction of Artificial Intelligence, early childhood care education, and yoga as new subjects in the upcoming session of April 2019. According to the new curriculum CBSE also introducing a few new subjects for the upcoming session starting from April 2019 like Artificial Intelligence, early childhood care education, and yoga. Out of those students have to choose optional...

A Few days ago, Central Board of Secondary Education (CBSE) launched its podcast application for all the stakeholders. As per the norms, the evaluation process for the on-going CBSE board exams 2019 has also been started. Now you can see the guidelines for the evaluation process on the podcast app of the board named CBSE Shiksha Vani. You can also download this app from Google Play Store. The...