Download Class 8 German worksheets with important questions and answers, latest syllabus, books and sample papers, students can free download study material in pdf, prepared based on latest guidelines, term examination pattern and blueprint issued by CBSE and NCERT
Click below for Class 8 German worksheets, latest syllabus, NCERT CBSE books, hots, multiple choice questions (mcqs) and easy to learn concepts and study notes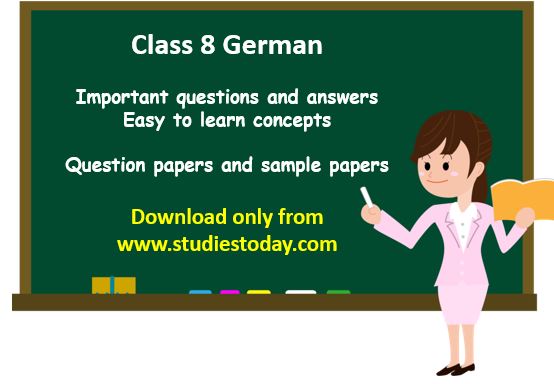 Latest CBSE News
The Central Board of Secondary Education (CBSE) has come up with certain rules regarding the dress code of candidates appearing for the board examinations. The candidates have been specified what they should wear while coming for their examination as follows: The regular school students are required to come for the exam in their regular school uniform only. The private students are allowed to...

At the forefront of the board examinations for the core subjects, the cbse or central board of education had unconfined a review for the students against the fake news on the major social Medias. CBSE's letter is a preventative endeavor to keep away from the circumstances was faced by the board in the last year throughout the board exams when gossip of leaking of question paper endlessly plagued...

Each one of you must have had this dilemma at least once in your lives. What time of the day is the best one to study? And if you have had this dilemma, then you most certainly would have had debates on it. Whether with your friends, your teachers or your parents. In this article, we try to clear up some ideas behind what studying time is the best for a student and what the benefits are. The time...

Mobile phones, laptops, iPods, tablets, you name a gadget and it is available for use in today's technologically advanced era. Technology and these gadgets have become quite an integral part of our lives so to say. Every day a new gadget is being introduced and humans are getting more and more dependent on technology for their day to day needs. There is probably not a single activity left in the...

All of you must have heard the famous saying, 'We must learn about our past and learn from it.' This goes true not only for your History lessons when you must take inspiration from great leaders like Mahatma Gandhi or Rani Lakshmi Bai, but it also stands true for practicing sample papers before you sit for your own exams. These sample papers may not give you the exact questions that will come in...

In a highly patriotic and important move to highlight one of the greatest men of our nation, Atal Bihari Vajpayee, the National Council of Educational Research and Training has introduced one of the poems written by this great leader in the 8th standard textbook. Must download these NCERT solutions for class 8 Hindi for free. The NCERT has taken this move with an aim to instil respect for the...

There are just a few days left for the 12th and 10th Boards exams of CBSE to begin. Keeping this in mind, following are some tips, hacks, and advice from learned people and toppers about how you can study last minute to further enhance your performance. Your performance in the exams depends greatly on your effort throughout the year. Hard work is the key to success and since you surely would have...