Download Class 8 German worksheets with important questions and answers, latest syllabus, books and sample papers, students can free download study material in pdf, prepared based on latest guidelines, term examination pattern and blueprint issued by CBSE and NCERT
Click below for Class 8 German worksheets, latest syllabus, NCERT CBSE books, hots, multiple choice questions (mcqs) and easy to learn concepts and study notes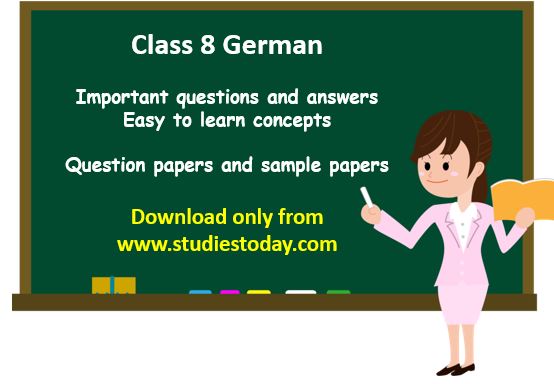 Latest CBSE News
At the forefront of the board examinations for the core subjects, the cbse or central board of education had unconfined a review for the students against the fake news on the major social Medias. CBSE's letter is a preventative endeavor to keep away from the circumstances was faced by the board in the last year throughout the board exams when gossip of leaking of question paper endlessly plagued...

The Central Board of Secondary Education has improved the introduction of arts in regular learning methodology for all subjects from class 1 to class 11. The step is being taken to incorporate suggestions from associates, proposed by National Curriculum Framework (NCF) that stated: "we must bring the arts precisely into the field of the curricular". All the details regarding the implementation,...

Last month the CBSE board exam has come to an end. This time there are no issues of any paper leakage found. Last year Central Board of Secondary Education (CBSE) had suffered a problem of paper leakage. Due to this, the Economics exam for class 12 was held again. Because of that last year incident happened, CBSE took multiple steps and actions towards the safety of question papers. CBSE...

The Central Board of Secondary Education (CBSE) conducts the board exam for class 12th every year. Students belonging to the Humanities category face a lot of problems to prepare for Economics. As you know Economics is one of the important subjects for the students who belong to the Humanities category. According to Studies Today, students shouldn't start multiple sections at a time. They shouldn...

CBSE or Central Board of Secondary Examination had declared the mathematics examination for the 10th standard. Usually, it is a one of the core subjects to most of the students. Since; nowadays in any kind of stream mathematics is required in the longer run. It is a very crucial subject for most of the students.  Mathematics offers an inimitable challenge to all the students – irrespective of...

When students prepare for the final board exams, most of the students often waste their time in choosing the right books to study for their final examination. They become confused in choosing the right study material for themselves and ends up taking the wrong books for their preparation which may even lead to failure in their board exams. National Council of Education, Research and training (...

As you know that the latest CBSE pattern 2019-2020 already has been updated and announced in the 1st week of March 2019. As per the new curriculum, CBSE proposed the internal assessment and examination practices for upcoming academic session 2019-2020. This will help in upgrading the quality of the assessment process, said by city school principals and authorities. According to the new curriculum...