CBSE, Class VIII Environmental Studies
Download Class 8 Environmental Studies | EVS worksheets with important questions and answers, NCERT books, sample papers and question papers. Also get free study material in pdf prepared based on latest guidelines, term examination pattern and blueprint issued by CBSE and NCERT
Click below for Class 8 Environmental Studies | EVS worksheets, assignments, syllabus, ncert cbse books, ncert solutions, hots, multiple choice questions (mcqs), easy to learn concepts and study notes of all chapters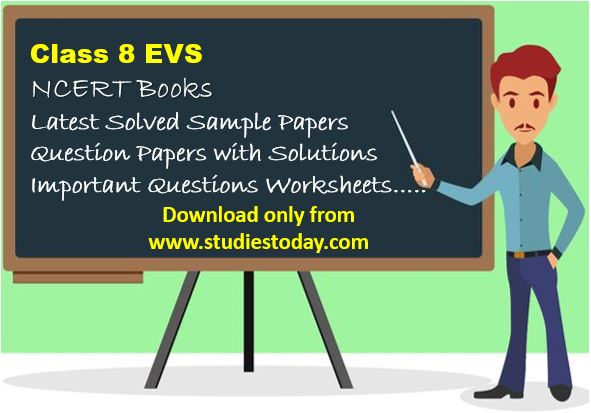 Latest CBSE News
Students are constantly told about how they should finish their syllabus in time and then get down to practicing last years question papers for each subject. But have you ever thought why it is so? There is quite a simple logic behind practicing these papers, 'the past will help you prepare better for the future.' Most schools and boards always refer to previous years question papers when setting...

The Central Board of Secondary Education has improved the introduction of arts in regular learning methodology for all subjects from class 1 to class 11. The step is being taken to incorporate suggestions from associates, proposed by National Curriculum Framework (NCF) that stated: "we must bring the arts precisely into the field of the curricular". All the details regarding the implementation,...

The Central Board of Secondary Education (CBSE) has been announced a list of all possible courses that students can continue after class 12. Also, CBSE has listed the names of the colleges, their eligibility criteria and other details related to that course. CBSE chairperson, Anita Karwal in an official statement said CBSE has made a concise list of elective courses that will help the students to...

How often have your parents lectured you on the importance of healthy eating habits? Quite a lot, we assume. Though it may sound like something a parent is bound to constantly lecture their children about, and though it may not seem important at all, it is super important and vital for you, especially as a student. Healthy eating habits don't just mean you need to eat green leafy vegetables and...

A Few days ago, Central Board of Secondary Education (CBSE) launched its podcast application for all the stakeholders. As per the norms, the evaluation process for the on-going CBSE board exams 2019 has also been started. Now you can see the guidelines for the evaluation process on the podcast app of the board named CBSE Shiksha Vani. You can also download this app from Google Play Store. The...

Relying on the reference books will be completely pointless just before exams. The best medium of scoring good marks in the CBSE 10th boards exams is the NCERT books. This statement was given by a student Hrithika Meena, of St. Xavier's school of the Nevata area in Jaipur. Being a top scorer Hrithika advises all the students, instead of mugging up the students should understand the context and...

In a highly patriotic and important move to highlight one of the greatest men of our nation, Atal Bihari Vajpayee, the National Council of Educational Research and Training has introduced one of the poems written by this great leader in the 8th standard textbook. Must download these NCERT solutions for class 8 Hindi for free. The NCERT has taken this move with an aim to instil respect for the...