CBSE, Class VI Moral Science
Download Class 6 Moral Science Sample Papers and Question Papers with solutions, students can free download in pdf, All study material has been prepared based on latest guidelines, examination pattern and blueprint issued by CBSE and NCERT
Click below for Class 6 Moral Science worksheets, assignments, latest syllabus, multiple choice questions (mcqs), easy to learn concepts and study notes of all class 6 moral science chapters, sample papers and last year solved question papers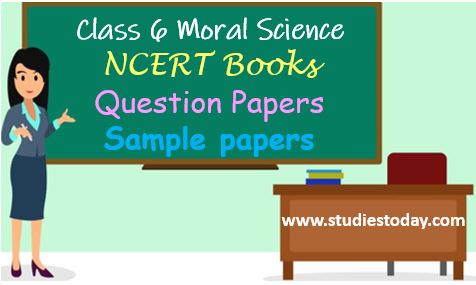 Latest CBSE News
At the forefront of the board examinations for the core subjects, the cbse or central board of education had unconfined a review for the students against the fake news on the major social Medias. CBSE's letter is a preventative endeavor to keep away from the circumstances was faced by the board in the last year throughout the board exams when gossip of leaking of question paper endlessly plagued...

Mr. TS Grewal can rightly be called the saviour for all students of commerce today. He was an eminent personality when it comes to subjects of Commerce and Management. He was not just an educationist but also a humanist who greatly inspired all those who were in touch with him. He had certain values, principles and the way of life he followed serves as a guiding light for many of us today. He...

NCERT i.e. National Council of Education Research and Training syllabus would be brought in the fresh academic year of class X and class XII in the Urdu and Hindi medium schools of Gujarat. This is a big and very welcoming step by the Gujarat State Board of Education. Download Urdu notes for class 10 Revealing those, on Saturday the officials told that the board has declared the welcoming of...

CBSE or Central Board of Secondary Examination had declared the mathematics examination for the 10th standard. Usually, it is a one of the core subjects to most of the students. Since; nowadays in any kind of stream mathematics is required in the longer run. It is a very crucial subject for most of the students.  Mathematics offers an inimitable challenge to all the students – irrespective of...

The Board examinations for Class 10th students studying the Central Board of Secondary Education (CBSE) will begin from the 7th of March 2019 for all core or main subjects. The exams for vocational subjects have already begun from the 21st February 2019. There are certain new mandatory rules that need to be kept in mind by the students before they appear for the examinations. These rules are...

CBSE has approved the introduction of Artificial Intelligence, early childhood care education, and yoga as new subjects in the upcoming session of April 2019. According to the new curriculum CBSE also introducing a few new subjects for the upcoming session starting from April 2019 like Artificial Intelligence, early childhood care education, and yoga. Out of those students have to choose optional...

The Central Board of Secondary Education has improved the introduction of arts in regular learning methodology for all subjects from class 1 to class 11. The step is being taken to incorporate suggestions from associates, proposed by National Curriculum Framework (NCF) that stated: "we must bring the arts precisely into the field of the curricular". All the details regarding the implementation,...