Download CBSE Class 6 French latest solved Sample Papers and Question Papers, important questions and answers printable worksheets and other useful study material prepared based on latest guidelines, examination pattern and blueprint issued by CBSE and NCERT
Click below for Class 6 French worksheets, assignments, latest syllabus, NCERT CBSE books, and easy to learn concepts and study notes of all chapters, sample papers and last year solved question papers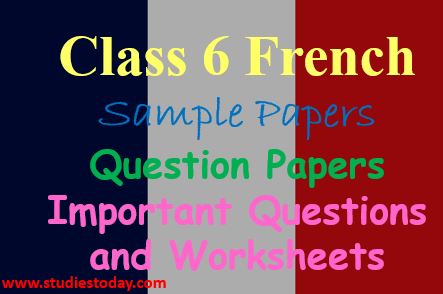 Latest CBSE News
The Central Board of Secondary Education has improved the introduction of arts in regular learning methodology for all subjects from class 1 to class 11. The step is being taken to incorporate suggestions from associates, proposed by National Curriculum Framework (NCF) that stated: "we must bring the arts precisely into the field of the curricular". All the details regarding the implementation,...

Unseen passages, also known as comprehensions are not just questions that are asked in your school English paper but are even important for your competitive exams later in life. It may seem the easiest thing when you attempt those questions in the English examination as the answers are straightaway copied out of the paragraph, but for your exams at a later stage, the questions would not be that...

Computers and software have become present everywhere. From booking a railway ticket to watching an IPL match on a smartphone, it is all down to coding and software. It is not surprising that the computer and software industry will provide the bulk of jobs in the coming years. Currently, India has 5.2 million employees who develop software, and the number will increase exponentially in the coming...

The committee has decided to reduce the deduction of marks from five to only two per cent for the change of stream. This is a big relief for the students who wish to change their stream due to any reason whatsoever. According to the latest updates, Delhi University is taking some steps regarding the admission process. The Delhi University (DU) is consulting the Central Board of Secondary...

Relying on the reference books will be completely pointless just before exams. The best medium of scoring good marks in the CBSE 10th boards exams is the NCERT books. This statement was given by a student Hrithika Meena, of St. Xavier's school of the Nevata area in Jaipur. Being a top scorer Hrithika advises all the students, instead of mugging up the students should understand the context and...

Exam times are one of the most hectic and nerve-racking periods in the student's life ever. This pressure will more increase if the board exams are going on. During the exam times students don't eat, sleep properly in the burden to perform well in the board exams. But they always forget that the brain also requires a lot of energy as a portion of food, rest i.e. good nutrition to work well.  To...

Last month the CBSE board exam has come to an end. This time there are no issues of any paper leakage found. Last year Central Board of Secondary Education (CBSE) had suffered a problem of paper leakage. Due to this, the Economics exam for class 12 was held again. Because of that last year incident happened, CBSE took multiple steps and actions towards the safety of question papers. CBSE...