Download Class 6 English NCERT Solutions, latest solved Sample Papers and past year Question Papers with Solutions, Also get free chapter notes and important questions and answers worksheets and many other useful study material prepared based on latest syllabus and guidelines issued by CBSE and NCERT. Students can download all in pdf free
Click below for Class 6 English printable worksheets, latest updated syllabus, NCERT CBSE books, latest NCERT Solutions, HOTs, Multiple Choice Questions (MCQs), easy to learn concepts and study notes of all chapters, online tests, value based questions (vbqs), sample papers and last year solved question papers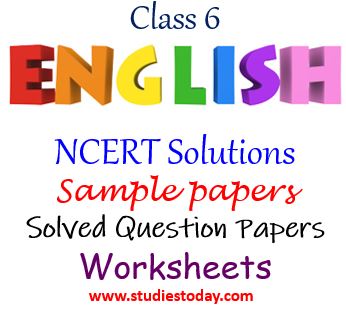 Class 6 English syllabus CBSE and NCERT guidelines
There are two main textbooks for class 6 English. The details and important chapters have been given below. All schools follow the text books but apart from the prescribed textbooks, many CBSE affiliated schools are also recommending and teaching other books to students to improve students vocabulary


NCERT textbook A Pact with a Sun has the following chapters
A Tale of Two Birds
The Friendly Mongoose
The Shepherd's Treasure
The Old-Clock Shop
Tansen
The Monkey and the Crocodile
The Wonder Called Sleep
A Pact with the Sun
What Happened to the Reptiles
A Strange Wrestling Match
NCERT textbook Honeysuckle has the following chapters
Who Did Patrick's Homework
How the Dog found himself new master
Taro's Reward
An Indian-American women in space
A Different Kind of School
Fair Play
Game of Chance
Desert Animals
The Banyan Tree
Background and explanation provided for teachers and students
Activities and materials that promote language growth in the early years have been described in some detail in the preceding section. Work at the upper primary level providing a basis for action and interventions in schools is described below. In general, vocabulary development through reading extensively with comprehension and interest and writing activities of a higher order than hitherto developed are the main goals of teaching/learning at this stage.
Objectives The general objectives at this stage are:
to negotiate their own learning goals and evaluate their own progress, edit, revise, review their own work
to understand, enjoy and appreciate a wide range of texts representing different cultures, ways of living
to be able to articulate individual/personal responses effectively
to use language and vocabulary appropriately in different contexts and social encounters
to be able to organise and structure thoughts in writing/speech
to develop production skills ( fluency and accuracy in speaking and writing)
to use dictionary suitable to their needs
to understand and enjoy jokes, skits, children's films, anecdotes and riddles
At the end of this stage learners will be able to do the following:
understand the central idea and locate details in the text (prescribed and non-prescribed)
use his/her critical/thinking faculty to read between the lines and go beyond the text
narrate simple experiences, describe objects and people, report events to peers
speak accurately with appropriate pauses and clear word/sentence stress to be intelligible in familiar social contexts
write simple messages, invitations, short paragraphs, letters (formal and informal) applications, simple narrative and descriptive pieces, etc.
use his/ her proficiency in English to explore and study other areas of knowledge through print and non-print media
to undertake small projects on a regular basis
Language Items
At the upper primary level, knowledge of grammar remains a process of discovery combined with a conscious effort to explicitly understand and name grammatical items. However, these should not be taken out of contexts to be treated as discrete teaching items.
In addition to consolidating the items learnt earlier, the following will be introduced and recycled through the upper primary stage.
Determiners
Passivation
linking words
adjectives (comparative and superlative forms)
adverbs (place and types)
modal auxiliaries
tense forms
word order in sentence types
clauses
reported speech
Methods and Techniques
Classroom interaction would be such as to promote optimal learner participation leading to an urge to use language both in speech and writing. The selection of actual classroom procedures is left to the discretion of the teacher. However, the following are recommended:
Role play
Dramatization
Reading aloud
Recitation of rhymes, poems and making observations on a given topic/theme
Telling and retelling stories, anecdotes, and jokes
Discussion, debate
Simple projects
Interpreting pictures, sketches, cartoons
Activities, tasks, and language games
Pair work, group work, and short assignments both individual and group
Exploring the electronic media
Latest CBSE News
This year board has introduced the new passing criteria for CBSE class 10 students. As per the norms, the board has decided to change the passing criteria for the CBSE class 10 students. According to the latest updates by the Central Board of Secondary Education (CBSE) i.e. the board has decided to give relaxation to the students. Here is the good news for the CBSE class 10 students. All the...

The Central Board of Secondary Education (CBSE) is likely to declare the result by May third week for class 10th and 12th. CBSE is ready for further processes. The Central Board of Secondary Education (CBSE) has been announced the Re-verification and Re-evaluation schedule on April 11, 2019. All those students who have doubts or not happy with the correction of papers can fill the Re-verification...

As per the new rules and regulations of the High Court, all private schools are not bound to enhance their fee structure without the prior permission of the Fee Fixation Committee (FFC). Besides that directorate advised private schools to follow the prescribed curriculum. Directorate of School Education, Jammu has made certain changes regarding the buying of books, uniforms of private schools of...

There are some chapters in Social Science for class 10 which CBSE has decided to drop them. CBSE has taken this decision so keep in mind that these chapters are irrelevant and in future will not be included in exams. Therefore, CBSE has decided to drop five Social Science chapters from this academic session of class 10th syllabus including 'Challenges to Democracy' and 'Political Struggles and...

As per the latest updates, the Delhi University has made certain changes in their curricular system. Earlier, Delhi University had announced the registration date was 15th April 2019. Now the news coming from the DU is Delhi University postponed the admission process for both under-graduation and post-graduation courses. Now the registration process is likely to begin on the first May 2019....

CBSE Class 10, 12 Results 2019: After so many predictions, rumours about the CBSE class 10th and class 12th results, finally the date is out now and the dates are also confirmed by the CBSE officials. According to the CBSE officials, the result will be declared by after the May 1st week i.e. between May 8, 2019, and May 15, 2019. Download CBSE class 10 Physics electricity notes prepared by expert...

As per the norms, the Central Board of Secondary Education (CBSE) has been announced strict rules regarding the change of school for reasons like better education, etc. On 5th April 2019, CBSE has made a list of documents that parents, as well as students, will have to give for direct admissions in Class X and XII. The following are the documents required to take admissions in Class X and XII are...