Download Class 4 study material for various languages such as French, German, Spanish, Arabic, Tamil, Malayalam, Japanese, Kannada, Punjabi, Marathi, Telugu, worksheets, assignments, sample papers and question papers prepared based on latest guidelines, term examination pattern and blueprint issued by CBSE and NCERT
Click below for Class 4 languages Worksheets and assignments, latest syllabus, easy to learn concepts and study notes of all class 4 languages sample papers and last year solved question papers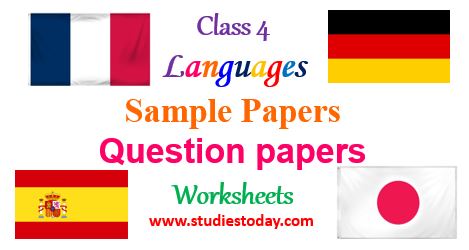 Latest CBSE News
A Few days ago, Central Board of Secondary Education (CBSE) launched its podcast application for all the stakeholders. As per the norms, the evaluation process for the on-going CBSE board exams 2019 has also been started. Now you can see the guidelines for the evaluation process on the podcast app of the board named CBSE Shiksha Vani. You can also download this app from Google Play Store. The...

CBSE has approved the introduction of Artificial Intelligence, early childhood care education, and yoga as new subjects in the upcoming session of April 2019. According to the new curriculum CBSE also introducing a few new subjects for the upcoming session starting from April 2019 like Artificial Intelligence, early childhood care education, and yoga. Out of those students have to choose optional...

So if you are one of the students who has just given their 10th class exam and confused about what to pursue next in your life then you have come to a right place. Today in this article we will be talking about some of the courses which students can pursue after their 10th class exam. Mostly students get confused after their 10th on what to choose and what to leave. Many students just take...

The Board examinations for Class 10th students studying the Central Board of Secondary Education (CBSE) will begin from the 7th of March 2019 for all core or main subjects. The exams for vocational subjects have already begun from the 21st February 2019. There are certain new mandatory rules that need to be kept in mind by the students before they appear for the examinations. These rules are...

The last date of online registration for admissions in Kendriya Vidyalayas was March 19, 2019. The official portal is launched by KV Sangathan functioning under the Union ministry for human resources development (MHRD) on 1st of March 2019. Interested candidates can also submit an online application form through our portal. The vacant seats will declared again on 26th March 2019 and students can...

The latest CBSE exam pattern 2019-2020 has been announced in the First week of March 2019. The new educational programme and pattern will be available in April 2019. As per the new exam pattern, CBSE has given more weight to school-based assessment and objective type questions. Internal Assessments in All Subjects: Unfortunately, the internal assessment wasn't available in all the subjects like...

All of you must have heard the famous saying, 'We must learn about our past and learn from it.' This goes true not only for your History lessons when you must take inspiration from great leaders like Mahatma Gandhi or Rani Lakshmi Bai, but it also stands true for practicing sample papers before you sit for your own exams. These sample papers may not give you the exact questions that will come in...