CBSE, Class I Environmental Studies
Download Class 1 Environmental Studies Worksheets and Assignments with important questions and answers, Solved Sample Papers and Questions Papers and Books in pdf format. Also download other study material prepared based on latest guidelines, term examination pattern and blueprint issued by CBSE and NCERT
Click below for Class 1 EVS Worksheets, Assignments, latest syllabus, NCERT CBSE books, easy to learn concepts and study notes Aample papers and last year solved question papers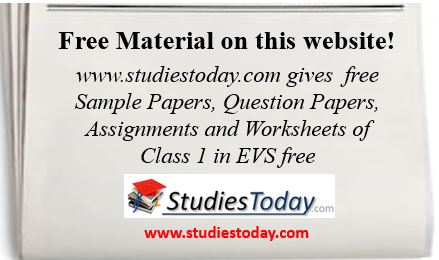 Latest CBSE News
The Central Board of Secondary Education (CBSE) has been announced a list of all possible courses that students can continue after class 12. Also, CBSE has listed the names of the colleges, their eligibility criteria and other details related to that course. CBSE chairperson, Anita Karwal in an official statement said CBSE has made a concise list of elective courses that will help the students to...

The latest CBSE exam pattern 2019-2020 has been announced in the First week of March 2019. The new educational programme and pattern will be available in April 2019. As per the new exam pattern, CBSE has given more weight to school-based assessment and objective type questions. Internal Assessments in All Subjects: Unfortunately, the internal assessment wasn't available in all the subjects like...

As you know that the latest CBSE pattern 2019-2020 already has been updated and announced in the 1st week of March 2019. As per the new curriculum, CBSE proposed the internal assessment and examination practices for upcoming academic session 2019-2020. This will help in upgrading the quality of the assessment process, said by city school principals and authorities. According to the new curriculum...

When students prepare for the final board exams, most of the students often waste their time in choosing the right books to study for their final examination. They become confused in choosing the right study material for themselves and ends up taking the wrong books for their preparation which may even lead to failure in their board exams. National Council of Education, Research and training (...

Computers and software have become present everywhere. From booking a railway ticket to watching an IPL match on a smartphone, it is all down to coding and software. It is not surprising that the computer and software industry will provide the bulk of jobs in the coming years. Currently, India has 5.2 million employees who develop software, and the number will increase exponentially in the coming...

Parents are rightly called the first teachers in our lives. A majority of what we learn comes from our parents, not so much from school. Even before we start going to school, our parents are the ones who teach us everything from what is right to what is wrong. So it goes without saying that their opinion, their motivation, and their support goes a long way in helping a child become what they want...

The Board examinations for Class 10th students studying the Central Board of Secondary Education (CBSE) will begin from the 7th of March 2019 for all core or main subjects. The exams for vocational subjects have already begun from the 21st February 2019. There are certain new mandatory rules that need to be kept in mind by the students before they appear for the examinations. These rules are...