CBSE Class I Environmental Studies
Download Class 1 Environmental Studies Worksheets and Assignments with important questions and answers, Solved Sample Papers and Questions Papers and Books in pdf format. Also download other study material prepared based on latest guidelines, term examination pattern and blueprint issued by CBSE and NCERT
Click below for Class 1 EVS Worksheets, Assignments, latest syllabus, NCERT CBSE books, easy to learn concepts and study notes Aample papers and last year solved question papers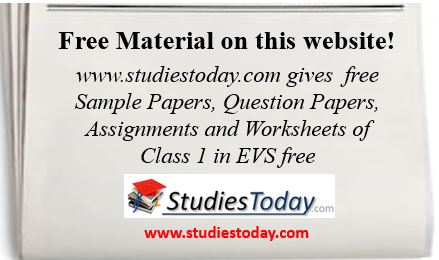 Latest CBSE News
Is your child carrying a heavy school bag daily which causes pain in his shoulders and back ? See the allowed weight limits of school bag below

On Friday, Bihar School Examination Board (BSEB) has announced the board exam date sheet. According to the news, the exam for the matriculation and intermediate schools will be held next year. The board has also announced the date of the exams. According to the circular from the Bihar School Examination Board (BSEB), the matric exams will be held from 21/02/2019 to 28/02/2019, and the...

With the latest technology and smartphones at the fingertips, students will get distracted easily these days. With the plenty of interesting things around, it is very hard for the students to focus on their studies. The lapse in concentration during the studies is something very similar to online shopping. We aim at a specific product, and with the suggestions of different products on the website...

Central Board of Secondary Education (CBSE) is planning to conduct the board exams for the class 10th and 12th students in the upcoming February. The CBSE board is planning to release the timetable for the exams soon. Now, the mindset of every student is to score the good works in the examination. Not all the hard working students will get the top marks in the examination. The one who studies...

The date to submit the candidate's list for the CBSE Class 10 Class 12 Exam 2019 has been extended by the central board. Read more to get the detailed information about the latest news about this date extension for the application. Earlier the last date announced to submit the fees and candidates list for the CBSE Class 10 Class 12 Exam was on Nov 2, 2018. The Central Board of Secondary Education...

Every student's dream is to score the good marks in the final board examination as the future of the student will depend on the result of these exams. The Central Board of Secondary Education conducted Board Examinations are only a few months away from now. This period is high time for every student to start their preparation seriously so that they can score well in their final examinations. CBSE...

Recently, CBSE has released a notice stating that board exams will begin in the month of February and continue March 2019. The board exams for vocational subjects will take place first and core subjects exam will be held afterwards. In class 10, there are 15 vocational subjects and in class 12, there are 40 subjects of skill education. This year you will very soon get the complete information...