Download Class 1 English worksheets and assignments with important questions, Sample Paper and Question Papers with solutions for practice, also download NCERT books and other study material prepared based on latest guidelines, term examination pattern and blueprint issued by CBSE and NCERT
Click below for class 1 English worksheets, assignments, syllabus, NCERT CBSE books, easy to learn concepts and study notes of all chapters, Sample papers and last year solved question papers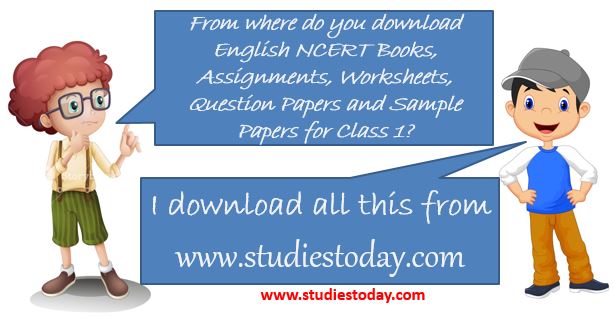 Latest CBSE News
The committee has decided to reduce the deduction of marks from five to only two per cent for the change of stream. This is a big relief for the students who wish to change their stream due to any reason whatsoever. According to the latest updates, Delhi University is taking some steps regarding the admission process. The Delhi University (DU) is consulting the Central Board of Secondary...

When students prepare for the final board exams, most of the students often waste their time in choosing the right books to study for their final examination. They become confused in choosing the right study material for themselves and ends up taking the wrong books for their preparation which may even lead to failure in their board exams. National Council of Education, Research and training (...

As per the CBSE norms, CBSE has been introduced a new assessment and evaluation system for the next year coming board exams for Std XII. CBSE has done these changes in subjects like Maths, languages and political science. There are 2 major reasons behind these changes i.e. board's internal strategy for students growth and getting ready for the students to participate in the PISA (Programme for...

Relying on the reference books will be completely pointless just before exams. The best medium of scoring good marks in the CBSE 10th boards exams is the NCERT books. This statement was given by a student Hrithika Meena, of St. Xavier's school of the Nevata area in Jaipur. Being a top scorer Hrithika advises all the students, instead of mugging up the students should understand the context and...

Mobile phones, laptops, iPods, tablets, you name a gadget and it is available for use in today's technologically advanced era. Technology and these gadgets have become quite an integral part of our lives so to say. Every day a new gadget is being introduced and humans are getting more and more dependent on technology for their day to day needs. There is probably not a single activity left in the...

CBSE or Central Board of Secondary Examination had declared the mathematics examination for the 10th standard. Usually, it is a one of the core subjects to most of the students. Since; nowadays in any kind of stream mathematics is required in the longer run. It is a very crucial subject for most of the students.  Mathematics offers an inimitable challenge to all the students – irrespective of...

Nowadays children are very busy with their day to day study. They are very much busy that they even don't have time for themselves. Burden and competition in education is growing day by day and due to this students are not able to enjoy their life. It is very important for every student to indulge in some other extracurricular or after school programs so that they can spend some time exploring...