CBSE class 1 computers is considered to be important subject as it helps the student to develop computer skills which are helpful in senior classes. Basic level computer training is being provided which helps them to operate computer covering topics like introduction to desktop, windows, computer parts, opening and closing files, operating keyboard, mouse, various features of computer, playing games, various menus. Practical and theoretical computer knowledge is given to students. access study material for class 1 students and free download in pdf and practice to get better marks in examinations. all study material has been prepared based on latest guidelines, term examination pattern and blueprint issued by CBSE and NCERT
Click below for Class 1 Computers worksheets, assignments, syllabus, NCERT CBSE books, multiple choice questions (mcqs), easy to learn concepts and study notes of all chapters, online tests, Sample papers and last year solved question papers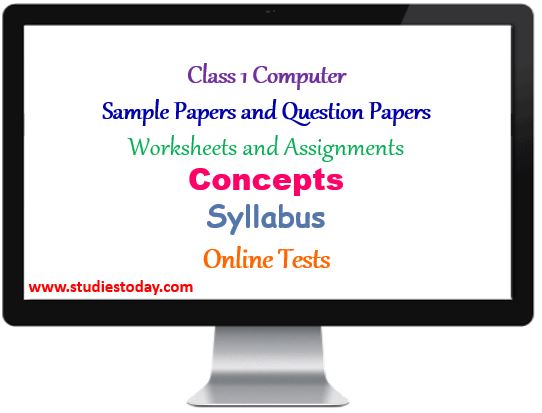 Latest CBSE News
Since the board exams for both class 10 and class 12 has started, the CBSE board has instructed the parents and the students to follow some guidelines to sensify against the forged news spread through the social media platforms. The parents and the students are directed to stick on their principles stated by the CBSE Board on their official website i.e. "www.cbse.nic.in.com". All the devices such...

Parents are rightly called the first teachers in our lives. A majority of what we learn comes from our parents, not so much from school. Even before we start going to school, our parents are the ones who teach us everything from what is right to what is wrong. So it goes without saying that their opinion, their motivation, and their support goes a long way in helping a child become what they want...

Since last year, CBSE has made the class 10th board exams mandatory for all the schools affiliated to CBSE. Well, all the questions come in the board exam are based on the concepts and topics mentioned in the class 10th science NCERT books. For doing well in the board exams students have to prepare from the NCERT book as well as students can also refer other books to study the topics given in the...

The committee has decided to reduce the deduction of marks from five to only two per cent for the change of stream. This is a big relief for the students who wish to change their stream due to any reason whatsoever. According to the latest updates, Delhi University is taking some steps regarding the admission process. The Delhi University (DU) is consulting the Central Board of Secondary...

There are just a few days left for the 12th and 10th Boards exams of CBSE to begin. Keeping this in mind, following are some tips, hacks, and advice from learned people and toppers about how you can study last minute to further enhance your performance. Your performance in the exams depends greatly on your effort throughout the year. Hard work is the key to success and since you surely would have...

When students prepare for the final board exams, most of the students often waste their time in choosing the right books to study for their final examination. They become confused in choosing the right study material for themselves and ends up taking the wrong books for their preparation which may even lead to failure in their board exams. National Council of Education, Research and training (...

Mobile phones, laptops, iPods, tablets, you name a gadget and it is available for use in today's technologically advanced era. Technology and these gadgets have become quite an integral part of our lives so to say. Every day a new gadget is being introduced and humans are getting more and more dependent on technology for their day to day needs. There is probably not a single activity left in the...