NCERT has published an advertisement in the daily newspapers today seeking suggestions from teachers and parents on the changes in syllabus which should be applicable for various classes. CBSE and NCERT are in the process of redesigning the entire syllabus from class 1 till class 12 which will be most probably applicable from session starting in 2019 onwards. Significant reduction in syllabus is expected for all classes with some subjects getting removed completely.
This exercise has started based on the instructions which have been given by the HRD minister. The link to provide suggestions has been given in the advertisement below or can be accessed in this news published by studiestoday.com - Suggestions invited by MHRD for reduction in syllabus
See Advertisement below-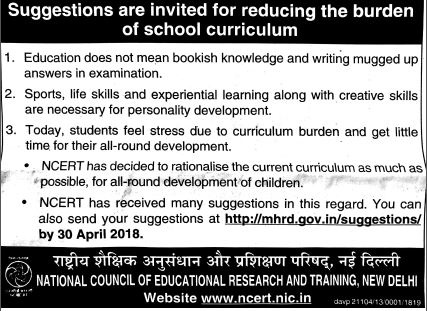 NCERT plans to reduce the syllabus so that the burden on the students to study so many chapters in topics can be reduced.  Once the syllabus has been revised based on the final syllabus the books will be published by NCERT.  The NCERT books will have the revised topics which will be either reduced or some of the topics might be combined.  This will ensure that the students are reading only quality education material or are reading topics which are relevant and applicable to the current environment.  the students are advised to refer to the new set of books as soon as they come in the syllabus will also be published by end of  2018 so that the students and teachers can prepare for the next academic session which is going to start on 2019.  The NCERT books will have revise chapters as well as new questions.  The student should read the new books and then do NCERT solutions for the questions which are given at the back of each chapter in the NCERT textbooks.
Doing NCERT solutions is of utmost importance because this helps the students to clear all the concepts and understand the topics in great detail.  The NCERT questions have been made in such a manner that this can be done by all levels of students.  The student should practice the NCERT solutions by downloading the solutions for NCERT from our website in PDF format.  Once you download the each chapter PDF file then you can use them for your daily homework for class work and also use them for preparing for the upcoming examinations.  Please also remember to share the NCERT solutions PDF file with your friends so that they can also get benefited by this.  In case you face any problems and downloading then you can contact us on the contact us form.  Once the new textbooks for NCERT are released then we will be updating the NCERT solutions accordingly.