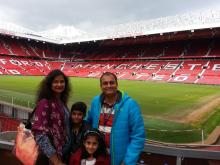 Shruti Dev
Tutoring Experience:
4 Years
An individual with a passion for teaching English to primary school children and to those who take up English as their second language.Also engaged in writing an English magazine for learners of English. Come if you want to learn English in a fun way!
Profile Description
I have Prepared engaging content for children, proof-read documents, designed fun-to-do activities, done research to gain factual information for writing general knowledge books, written short stories in simple and interesting ways so that children are compelled to pick up the books to read. I designed lesson plans and prepared classroom board which would made my classroom fun, engaging and content-rich for children. I used to organize a lot of activities, games and drama to teach basic skills I was aware of each child's needs and gave them specific and individual compliments to encourage and help them feel my love Taught in one of the best schools in Gurgaon, Shriram Global An Intern at Shriram Aravalli Writer, editor, proof-reader at Coral Publishing.
Teaching Facilities
Crash Course Available?:
No
Study Material Provided?:
No
Group Size:
Medium of Instruction:
English
Free Demo Classes Available?:
No
Time of Teaching:
As per student's needs
Classes and Subjects
Class 1›English
Class 1›General Knowledge
Class 1›Hindi
Class 1›Moral Science
Class 2›English
Class 2›General Knowledge
Class 2›Moral Science
Class 3›English
Class 3›General Knowledge
Class 4›English
Contact Information
Area:
Banshankari 6th Stage
Address:
C 603, Brigade Omega, 80 Feet Raod, Banshankari 6th Stage, Bengaluru.560061
State & City:
Karnataka›Bengaluru